A doctor may not always be qualified to diagnose your condition. They may not always ask about your family or medical history, order the right tests, seek your consent before administering a treatment or conducting a surgical procedure, or tell you what you are suffering from. Failure to diagnose can lead to delayed treatment, health complications, and sometimes death.
However, a patient may fail to get well or better even after the doctor acts skillfully and with utmost care. In such a case, the doctor is not liable for damages. Engaging the services of a medical malpractice lawyer will determine if your medical malpractice claims are valid.
If your injuries occurred in New York City, you need an experienced New York City medical malpractice attorney to determine the at-fault party and obtain a settlement for injuries caused by the negligence or misconduct of doctors, surgeons, nurses, dentists, anesthesiologists, hospitals, clinics, or a healthcare provider.
This is because it is not easy to win a medical malpractice case in New York without legal representation.
The lawyer analyzes medical records, examines your injuries, and seeks independent medical examinations as well as the opinion of other medical experts to develop case theories to support your medical malpractice case and determine how much settlement you should be awarded.
Continue reading to find out if you qualify for compensation or settlement.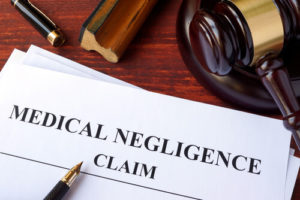 When Do You Need A Medical Malpractice Lawyer?
Medical malpractice is among the leading causes of death in the United States, with 1.5 million people sustaining injuries and another 225,000 dying from healthcare providers' negligence. Unfortunately, only 2 percent of victims open a malpractice lawsuit for compensation. This is because the majority of victims don't know they are protected by medical malpractice law.
While it's not always easy to prove medical malpractice matters in court, an experienced lawyer can help you negotiate a fair settlement.  Gregory Spektor & Associates law firm has helped thousands of medical malpractice victims in New York for years. Our medical malpractice lawyers have the right experience, tools, and resources to help you win your malpractice case.
Hire a medical malpractice lawyer immediately if you're going through any of the following:
Birth Injuries
A lot of things happen at the labor ward. When a woman checks into a hospital to deliver, she expects to come out with a healthy baby.
Sometimes, this does not happen. Some come out with serious injuries that affect them for the rest of their lives, while others come out with disabled babies. All because of negligence by the midwife or nurses.
Some of the causes of serious birth injuries in New York include:
Excessive administration of Pitocin during labor, leading to injury of the unborn baby.
Improper delivery of vacuum, leading to brain damage, facial injuries, cerebral palsy, death of the fetus. This can also leave the mother with bladder injuries, perineum injuries, or a ruptured uterus.
Improper management of labor can lead to brain damage, trauma, and other positional problems for both the mother and the child.
Failure to detect and handle fetal distress in time could leave the unborn baby with cerebral palsy, brain damage, or Erb's palsy.
Delaying a Cesarean section or vaginal birth could leave both the mother and baby with serious injuries.
Ignoring symptoms of neonatal hypoglycemia could leave the baby with blindness, cognitive disabilities, and other developmental problems.
These errors force the victim to undergo long-term medical care, spend time in therapy, cause pain and suffering, and in worst-case scenarios, fetal death.
If you or your loved one has sustained injuries during delivery, it is advisable to consult a professional medical malpractice lawyer immediately for advice. Call our New York-based law firm on 1(888)797-7735 and prepare a solid defense for your New York medical malpractice case.
Traumatic Brain Injuries (TBI)
You can sustain TBI from an accident, sport, or war. Approximately 50,000 people die in the US due to undiagnosed traumatic brain injuries every year. In addition, over 5.3 million people are living with disabilities caused by untreated TBI.
When left untreated, TBI could cause disabilities such as:
Post-concussion syndrome which leads to memory problems, difficulty concentrating, dizziness, headache, anxiety, sleep disturbance, sadness, agitation, and apathy.
Cognitive disabilities that result in foggy brain, memory loss, inability to reason logically, make appropriate judgments, or organize schedules.
Sensory problems such as loss of sight and taste, poor sense of smell, ringing in the ears, tingling of the skin, or continuously itchy skin.
Communication issues such as slurring and speaking gibberish.
Emotional difficulties which manifest in the form of anxiety, apathy, confusion, depression, irritability, mood swings, and frustration.
Contact a reputable New York medical malpractice law firm today to ascertain if your injuries could have been prevented. Gregory Spektor & Associates medical malpractice attorneys are always willing to help. Call us on 1(888)797-7735 for consultation.
Catastrophic Injuries
Any type of accident in New York could leave you with catastrophic injuries, including car accidents, falls, and collisions during sports. If you go to a doctor for medical care and they carry out the wrong procedure, such as unnecessary amputation, you will have to live with it for the rest of your life.
A doctor's carelessness when treating a patient for catastrophic injuries could leave you with long-term organ damage, paralysis, spinal cord disorders, eye injuries, head trauma, neurological disorders, multiple bone fractures, neck and back injuries.
Contact Gregory Spektor & Associates now for a case evaluation. Our New York medical malpractice attorneys can help firm up your cause and help you get just compensation from the doctors' insurance company.
Cerebral Palsy
In the US, 10 percent of cerebral palsy cases among newborns are caused by medical malpractice. This happens when a mother is left in labor for too long, or the improper handling of equipment hence putting pressure on the brain of the fetus and depriving them of oxygen.
This deprivation results in brain injury.
Contact our medical malpractice lawyers in New York to determine if this situation could have been prevented.
Diagnostic Errors
Primary care physicians conduct diagnoses every day. Failure to make a proper diagnosis can leave a patient with serious pain and suffering.
Most of the time, diagnosis errors occur because a physician failed to order a test, report test results, or follow up on abnormal findings to determine what the patient is suffering from.
In the US, 10-15 percent of patients with stroke, lung cancer, acute coronary syndrome, pulmonary embolism, drug reactions, breast cancer, and colorectal cancer are misdiagnosed.
According to the New York medical malpractice law, injuries resulting from the poor assessment of a patient, wrong test results, failure to check a patient's history, as well as failure to refer cases outside their area of expertise are the liability of the health care provider.
The New York statute of limitations gives patients 30 months from the date of discovering the diagnostic error to file a lawsuit. However, the Discovery Rule allows you to complete treatment first before filing your case.
Failure to Communicate Test Results
When a doctor orders some tests yet fails to communicate the findings to the patient, they make it impossible for the patient to seek treatment in good time. This could eventually lead to death.
Failure to communicate test results accounts for roughly 4 percent of all medical malpractice-related claims in the US.
If you believe your condition worsened because of a doctor's negligence, you can press charges through the help of a reputable New York law firm and get compensation. Here at Gregory Spektor & Associates, all we want is justice for you.

Failure to Diagnose
A professional healthcare worker can perform the wrong diagnosis on a patient, miss the diagnosis, or delay diagnosis due to their failure to pay attention to the patient's symptoms, examine their medical history, order a test, or refer them to a specialist in time.
This is a case of medical negligence for which you can sue for damages.
Failure to Order Tests
This happens when a doctor believes they know what a patient is suffering from based on their symptoms, or failure to keep up with advances in medicine. These errors can lead to disabilities, prolonged hospital stays, or even death.
Do you suspect that your pain and suffering were caused by health care professionals' failure to order tests? You can file a medical malpractice claim and get compensation.
Surgical Errors
Over 4,000 Americans sustain surgery-related injuries each year. Wrong-site surgery, wrong surgical procedures, leaving tools inside a patient's body, and failure to obtain the informed consent of the patient before surgery are some of the common forms of surgical errors.
Whether it is emergency surgery, semi-elective or elective surgery, errors or delayed surgery could lead to permanent injuries,  disabilities, and wrongful death. Improper C-sections, for instance, could lead to organ damage, sepsis, nerve damage, blood clots, complications of heart and lungs, lacerations, broken bones, and oxygen deprivation. Failure to conduct emergency surgery to treat appendicitis could lead to wrongful death.
During surgery, a surgeon may leave foreign objects in the patient's body. If these objects end up harming the patient, they can file a medical negligence lawsuit and recover damages. However, any lawsuit should be filed before the New York statute of limitations kicks in.
Consult our medical negligence lawyer on the way forward.
Unauthorized Treatment
A doctor must always seek the consent of a patient before administering treatment.  They also have to disclose information about the available treatment options, risks associated with each treatment, and consequences of skipping medication. The patient must then make an informed choice and sign the informed consent form.
If a doctor administers treatment without the consent of the patient and it causes serious injuries, the victim can open a medical malpractice lawsuit for compensation. Consult a lawyer to find out if your doctor breached the New York medical malpractice law.
Defective Medical Devices
If you're given a device at the hospital and it causes serious harm to your body, you can sue. However, if the injuries occurred due to design flaws, that is a product liability and not medical malpractice case.
Prescription Drug Injuries
Sometimes patients receive the wrong medication and dosage. Pharmacists can also mislabel drugs at the hospital, or the doctor knowingly prescribes drugs that react with other drugs that the patient is taking. Prescription errors could be caused by anybody in the supply chain, from the manufacturer to the pharmacist, or prescribing healthcare provider. Such errors could cause pain and suffering, loss of income, long-term medical care, and even death.
A medical malpractice lawyer can help determine who is at fault and negotiate a fair settlement on your behalf.
Wrongful Death
There are many causes of wrongful death including accidents and the use of defective products. According to the law, all the above forms of medical negligence could lead to wrongful death.
If you or a loved one have been victims of medical malpractice, finding a good law firm to represent you or negotiate a settlement is the first step in obtaining justice. The following tips will help you find professional medical malpractice lawyers.

How to Find a Good New York Medical Malpractice Lawyer
Ask for Recommendations
If you know a lawyer who specializes in a different field, you can ask them to refer a good medical malpractice lawyer for your case. You can also get recommendations from friends, family members, colleagues, or the local bar association.
State bar associations keep a record of lawyers who are experienced in different practice areas for people searching for referrals.
Search Online
The internet is a great resource when looking for recommendations. Search for lawyers or law firms specializing in medical malpractice in New York City. You will get a list of law firms.
Call the ones with the highest rating and positive reviews from real clients then book an appointment.
Successful Medical Malpractice Cases Handled
Whether you got a referral from a friend or found them online, it is important to have an initial meeting with your preferred lawyers. Check their practice areas, years of experience in medical negligence, and the number of successful medical malpractice cases they've handled over the years before engaging them. Use the initial meeting to determine if the two are compatible enough to work together.
Payment Terms
Lastly, negotiate the payment terms. There are no limits on how much compensation you can get for medical malpractice in New York. However, New York law has set a cap on the amount of money you can pay a medical malpractice attorney. Find out how much settlement you should expect, their fee, and miscellaneous costs.
Contact Professional Malpractice Attorneys in New York City
Gregory Spektor & Associates is a top personal injury law firm based in New York City. Over the years, we have built relationships along the way that have put us in the best position to win New York medical malpractice cases. Call us on 1 (888)797-7735 for an appointment.
Gregory Spektor & Associates
1 Cross Island Plaza Suite 203C,
Queens, NY 11422