Queens Slip and Fall Lawyer Near You – Gregory Spektor & Associates, P.C.
In Queens, especially in vibrant and congested areas in Forest Hills, Jackson Heights, Rego Park, Flushing, and Bayside, slip and fall accidents are unfortunately common. These incidents can lead to severe injuries, ranging from broken bones to brain injuries.
Navigating the aftermath of such an accident can be overwhelming, especially when dealing with medical bills, lost wages, and pain and suffering. That's where the knowledge and experience of a dedicated Queens slip and fall lawyer can be an invaluable resource for injured individuals. At Gregory Spektor & Associates, P.C., we understand the challenges victims face, and we've successfully advocated on behalf of our clients to recover financial relief for them.
If you have questions, we're here to listen. Contact our law firm to speak with a Queens slip and fall attorney today: (800) 318-8888.
Understanding Slip and Fall Accidents in Queens, NY
A slip and fall accident refers to a situation where an individual slips, trips, or falls as a result of a dangerous or hazardous condition on someone else's property. Characterized as a type of personal injury claim, the injured party may seek compensation from the property owner or manager responsible for maintaining the premises.
Common Hazardous Conditions Leading to Slip and Fall Accidents
     

Wet or slippery floors;

     

Uneven surfaces or broken sidewalks;

     

Poorly lit areas;

     

Torn carpeting or loose floorboards;

     

Cluttered walkways;

     

Missing, broken, or

loose handrails

on

stairs;

     

Snow and/or ice

on sidewalks;

     

Potholes in parking lots.
Slip and Fall Statistics in New York
The National Floor Safety Institute compiled a list of facts from the CDC and the NSC to shed light on the harsh reality of these types of accidents. Below are some examples:
     

Falls account for

over 8 million hospital emergency room visits

, representing the leading cause of visits (21.3%);

     

Slips and falls are the leading cause of workers' compensation claims and are the

primary cause of occupational injury for people aged 55 years and older;

     

According to the Consumer Product Safety Commission (CPSC), floors and flooring materials contribute directly to

more than 2 million fall injuries each year;

     

Half of all accidental deaths in the home are caused by a fall

.

Injuries from Slip and Fall Accidents: From Minor to Severe
When one thinks of a slip and fall accident in Queens, the immediate assumption might be minor bruises or a scraped knee. However, the reality is that slip and fall injuries can be quite a serious matter.
Common Injuries Sustained from Trip and Fall Accidents
     

Broken Bones:

From simple fractures to compound breaks, the impact of a fall can lead to serious bone injuries.

     

Soft Tissue Damage:

This includes sprains, strains, and tears in ligaments, which might not be immediately noticeable but can cause long-term pain and discomfort.

     

Head Injuries:

A hard fall can result in traumatic brain injuries, from concussions to more severe brain damage, and in catastrophic cases, death.

     

Back and Spinal Cord Injuries:

These can lead to partial or complete paralysis, affecting mobility and quality of life.
The repercussions of these injuries extend beyond the physical pain as victims often face mounting medical bills and, in serious cases, lost wages due to inability to work. The emotional toll, including the pain and suffering experienced, can be immeasurable.
In Queens, where life moves at a fast pace, a slip and fall injury can put an immediate halt to an individual's daily routine and long-term plans. That's why it's important to seek legal guidance from an experienced Queens slip and fall attorney who can explain your best legal options so that you can concentrate on your recovery.
Determining Liability in Slip and Fall Cases
In the lively streets of Queens, determining who is at fault for a slip and fall accident is crucial. Under New York State Law, property owners and tenants have a responsibility to ensure their place of business and premises are safe from dangerous conditions. But how is liability established?
     

Property Owners' Role:

Property owners and tenants must maintain a safe environment. This includes regular inspections, prompt repairs, and adequate warnings about potential hazards. Failing to do so makes them

negligent

, and they can be

held liable

for any injuries

suffered

on their property.
     

Gathering Evidence:

To establish liability, it's essential to gather evidence. This process can include taking photos of the accident scene and the hazard that caused the fall, obtaining eyewitness accounts and their contact information, surveillance footage, and incident reports.
     

Dealing with Insurance Companies:

Often, the property owner's

insurance company

gets involved. They might try to downplay the dangerous conditions or argue that the

injured party

was at fault. Having a dedicated

Queens slip and fall lawyer

can

make

a difference as they can navigate these challenges and ensure the injured party's rights are protected.
Understanding the responsibilities of property owners and the process of proving negligence and establishing liability are the first steps in ensuring that the injured party receives the compensation they deserve for their pain, suffering, and consequential losses.
Compensation, Medical Care Expenses, and Damages
After a slip and fall accident in Queens, victims often find themselves facing not only physical pain but also financial strain. New York State Law recognizes the hardships faced by victims and provides ways for them to seek compensation.
Types of Damages
     

Economic Damages:

These are defined as tangible costs that a victim incurs, such as

medical bills

and lost wages as a result of the accident.

     

Non-Economic Damages:

These are defined as intangible costs, like pain and suffering, loss of enjoyment of life, etc.
Though economic and non-economic damages are used to better calculate the possible compensation that should be awarded to the individual, there are other factors that may heavily influence the amount to be given to the victim. Such elements include:
     

The severity of the injury;

     

The clarity of liability – how evident it is that the property owner was at fault;

     

The victim's age, health, and occupation;

     

The quality of evidence and representation.
It's essential for victims to understand their rights under New York State Law. With the right legal guidance and help from a Queens slip and fall attorney, they can navigate the complexities of the system and ensure that their clients receive the maximum compensation they deserve.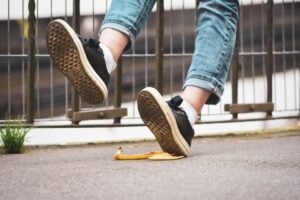 Navigating the Legal Process: Free Consultation to Settlement
A slip and fall accident can be overwhelming. Beyond the physical pain and recovery, victims often find themselves in the position of not possessing enough legal knowledge to pursue their claim. That's why it's important that they follow these steps:
     

Initial Case Review:

This is the first step to

take

in the legal journey. Victims can meet with a

Queens slip and fall attorney

to discuss the specifics of their case, understand their rights, and evaluate the potential for compensation.
     

Investigation:

The attorney will gather all necessary evidence, from photographs and medical records to eyewitness testimony.
     

Filing a Claim:

Based on the evidence, a claim will be filed against the liable party, usually their insurance company. This claim will detail the injuries, the circumstances of the accident, and the requested amount of compensation.
     

Negotiation:

Before heading to trial, there's often a phase of negotiation where both parties try to reach a settlement. Insurance companies might offer money, but it's essential to have an experienced

Queens slip and fall lawyer

to ensure the offer is fair.
     

Trial:

If a settlement cannot be reached, a compassionate and dedicated

Queens slip and fall injury lawyer

should be prepared to go to trial. Here, both sides will present their evidence, and a verdict will be reached.
It's also important to keep in mind that the State of New York applies a statute of limitations to personal injury cases. Though the timeframe may differ individually, it typically lasts three years against a private property owner but may be shorter if the property is owned by a municipality or governmental entity. Failing to submit a claim within the appropraite time period may result in forfeiting your rights to compensation. That is why it's imperative to begin the legal process immediately following an accident.
In times like these, depend on an experienced Queens slip and injury lawyer who can help you to file your claim and get you the justice and compensation you deserve.
Why Choose Gregory Spektor & Associates, P.C for Your Slip and Fall Case?
In the vast legal landscape of Queens, finding the right representation for your slip and fall case can be a daunting task. Here's why Gregory Spektor & Associates, P.C.'s team of Queens slip and fall accident lawyers stands out:
     

Experience handling personal injury cases:

For years, our

law firm

has handled many

motorcycle accidents, pedestrian accidents, car accidents, truck accidents, wrongful death cases and slip and fall injury cases

in Queens and throughout

New York City

. We understand the intricacies of New York State laws and have successfully represented numerous clients.
     

Client-Centric Approach:

We prioritize our clients. From the free initial consultation to the final settlement, our team of

personal injury lawyers

ensures that our clients are well-informed every step of the way.
     

Proven Track Record:

From

premises liability

to

construction accidents cases

, our success stories speak for themselves. We invite you to visit our testimonial page where clients share their experiences, reflecting positively on our dedication, legal knowledge, and results.
     

No Win, No Fee:

We operate on a contingency fee basis. This means you don't pay a cent unless we secure a settlement for you.
     

Personalized Attention:

Every slip and fall case is unique. We craft strategies tailored to the specifics of each case.
Choosing the right law firm can potentially improve your chances of securing a positive outcome. With Gregory Spektor & Associates, P.C., you're not just choosing a lawyer; you're choosing a partner dedicated to ensuring you get the attention, justice, and compensation you deserve.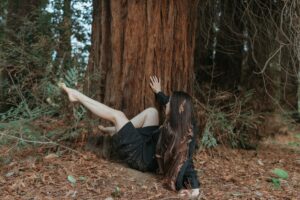 Schedule Now Your Free Case Evaluation
At Gregory Spektor & Associates, P.C., we're relentless in our efforts to get our clients what they rightfully need. With us, you can count on:
A Free Consultation:

We believe in empowering our clients with the right information. Reach out to us for a free case evaluation. Our experienced team will review the specifics of your case, provide guidance on the best course of action, and help you understand the potential compensation you might be entitled to.

Direct Communication:

We pride ourselves on our transparent and direct communication. You'll always be in the loop with regular updates on the progress of your case.

Knowledge of multiple practice areas:

With years of experience in handling slip and fall cases in Queens, our team is equipped with the knowledge and resources to represent you and

handle

your case effectively.

Immediate Assistance:

Time is of the essence, especially considering the

statute of limitations

in New York. Don't delay! The sooner you reach out, the better positioned you'll be to

get the compensation you deserve

.
If you or a loved one has been a victim of a slip and fall accident, don't attempt to navigate the legal process alone. Let us be your advocate. Our Queens slip and fall attorneys can fight for your rights and work diligently to recover what you deserve. Contact us today for your free initiation consultation. We're only one phone call away: (800) 318-8888.