Suffering a severe injury as a result of another person's actions or inaction can be traumatic. Aside from the physical damage, you may have to deal with paperwork, large medical bills, insurance companies, and other issues. These issues can be overwhelming and have a significant impact on your life at a time when you should be concentrating on your recovery.
The mishap occurred. You're attempting to concentrate on healing and resuming your normal life. However, the stress of your recovery process is preventing you from progressing. Your finances are rapidly dwindling as a result of the medical bills. Because of your injury, you are unable to work.
If this is the case, don't be concerned. Gregory Spektor & Associates personal injury attorneys are here to assist you. We have your back. Our personal injury lawyer Far Rockaway understands your anguish. Handling a personal injury lawsuit on your own can be extremely stressful and difficult. So, allow us to assist you during this trying time.
Our law office specializes in the following cases:
Motor vehicle accidents.
Medical malpractice.
Wrongful death lawsuits.
Premises liability claims.
Slip and fall accidents.
Construction accidents.
Work-related injuries.
Defective product lawsuits.
Birth injury and negligence.
Nursing home negligence and more.
What is Personal Injury Law?
Personal injury law, also known as tort law, seeks to protect you if someone else's actions or failure to act cause you or your property injury or harm. When the party who caused the damage or injury compensates the affected party for any losses, the tort action is successful. Personal injuries encompass a wide range of harm to a person's body, reputation, and emotions.
The three grounds on which you can file a personal injury claim include:
Failure to act with the level of care that a person of ordinary carefulness would exercise in the same circumstances. For example, while hunting, you can aimlessly shoot your firearm at other people.
The deliberate action of another person. Assault, battery, intentional infliction of emotional stress, trespass to chattels, trespass to land, and false imprisonment are some examples.
Injuries are caused by an action, regardless of the defendant's mental state or intent at the time of the act. For example, damage caused by a faulty product.
If your personal injury claim is successful, you will receive financial compensation for your injuries. The money you receive is intended to compensate you for your losses, which may include:
Pain and suffering.
Lost wages.
Medical bills.
Travel expenses.
Household assistance.
Emotional and mental distress and more.
Contact – Personal Injury Lawyer In Far Rockaway, NY
Personal Injury Attorney
A personal injury lawyer is a legal professional who represents and assists victims of personal injuries. A personal injury lawyer focuses on tort law, which encompasses both intentional and negligent acts. Personal injury attorneys use their legal knowledge and experience to seek the maximum financial compensation for accident victims.
Benefits of Hiring an Experienced Personal Injury Attorney
Hiring an experienced personal injury attorney is one of the most important decisions you must make in a personal injury case. You may believe that hiring a personal injury attorney is unnecessary. Nothing could be farther from the truth. To maximize the settlement you receive, you will need the assistance of a legal professional with extensive experience in tort law.
Some of the reasons to hire a personal injury attorney for your case include:
They Are Objective and Professionals
A personal injury can cause a great deal of upheaval and pain. This may make making objective, unbiased decisions difficult. As a result, you should think about hiring a personal injury lawyer. A personal injury attorney will work objectively to get you the settlement you deserve, in addition to having extensive knowledge of any personal injury matter.
To Help You Grasp the Personal Injury Litigation Process
Navigating the claim process without the assistance of a personal injury lawyer can be complex and confusing. Furthermore, a single error could result in a delayed or reduced payout. Your attorney will assist you in gathering relevant information and facts. They will also assist you in understanding the applicable liability laws, statutes of limitations, how to deal with law enforcement, and other issues.
A skilled New York personal injury lawyer will also be familiar with the local district courts. This could help to speed up your claims process. You must accurately and truthfully describe the circumstances of your accident. Your attorney will then guide you through the remainder of the litigation process.
Peace of Mind
Another reason to hire a personal injury attorney is to gain much-needed peace of mind. Given everything you've just been through, this is critical. After an injury, you need assurance that things will return to normal. This will allow you to concentrate on a complete recovery.
Negotiation Skills
Following an accident and a personal injury claim, the case will be handled by the defendant's insurance carrier. When it comes to negotiating for the lowest possible compensation, insurance representatives can be very persuasive.
They have strategies for persuading plaintiffs to accept their first offer. After all, they deal with such cases on a daily basis. That is why you require the services of an experienced attorney. Hiring an experienced personal injury attorney often results in greater compensation.
Timely Compensation
If you do everything on your own, you will most likely have to wait until you recover before receiving compensation. As a result, you may have to wait much longer to receive your settlement. A personal injury attorney, on the other hand, will file a claim on your behalf while you are still recovering. Your lawyer is also knowledgeable about the legalities and procedures required to obtain timely compensation.
To Save Money
You probably believe that hiring a personal injury attorney is expensive. In reality, it is worthwhile and possibly even cost-effective. The majority of personal injury lawyers work on a no-win, no-fee basis.
As a result, you may not have to pay your lawyer until you receive your settlement. Your lawyer may agree to take a predetermined percentage of your compensation as part of their fees. As a result, it will be in your lawyer's best interest to obtain the highest possible settlement for you.
Smarter Decisions
Unless you are an attorney, filing a personal injury lawsuit may appear complicated and frustrating. If the offender refuses to accept responsibility for their error, legal action will be required. That will necessitate making sound decisions. A knowledgeable attorney will assess your situation and advise you on your options. You will also be advised on the best course of action based on the severity of your injury.
Legal Coverage
When you file a personal injury lawsuit, the wrongdoer may choose to contest your claim, forcing you to go to court. The defendant will be represented by a lawyer throughout the proceedings. If you do not have a lawyer, your chances of winning your case are slim. To level the playing field, you would benefit from the assistance of a legal expert.
Personal Injury Lawyers know the Best Investigators.
You must prove your case when filing a personal injury claim. This is especially true when it comes to liability, insurance, or assets. Fortunately, your lawyer will be familiar with the best investigators to assist you in building your case.
Your Lawyer Will Have Your Best Interest at Heart
Certain laws govern how insurance companies operate. However, controlling motivation is impossible. After all, insurance companies will go to great lengths to protect their customers' interests. They have a team of attorneys on retainer to look for ways to reduce their payouts and deal with any other legal issues that may arise.
Expert Evaluation of Damages
Aside from assisting you in proving that the accident was not your fault, an experienced attorney can help you establish fault and liability. Your lawyer will fight to clear up any confusion about how the accident happened and the extent of your injuries.
Types of Personal Injury Cases
Personal injury cases are frequently the result of the negligent actions of other people or institutions. This includes car accidents, truck accidents, and motorcycle accidents. Bike accidents, aviation accidents, boating accidents, mass transportation accidents, and pedestrian accidents are among the others.
We handle a wide range of personal injury cases at Gregory Spektor & Associates. Our primary areas of practice include:
Injuries from Motor Vehicle Accidents
If you are injured in a car accident, the at-fault party is legally liable for all accident-related damage and losses. The person who caused the accident will be held financially responsible for any injuries and vehicle damage. You should have documents detailing your injuries, police reports describing the accident, and insurance information as the plaintiff.
In such a case, proving liability usually entails proving that the other party was negligent. You will need to demonstrate two critical points, such as:
The other party violated a legal duty.
That breach of duty led to your injuries.
If you need legal advice or representation, contact Gregory Spektor & Associates for a free consultation. Our New York law firm will work tirelessly to ensure that you receive the justice and compensation that you are entitled to.
Contact – Motor Vehicle Accidents Lawyer In Far Rockaway, NY
Construction Accidents
If you work in the construction industry, your employers should go out of their way to ensure your and your coworkers' safety. Construction accidents can still occur, resulting in serious injuries and massive losses.
Construction workers' losses and injuries in New York can be long-lasting and devastating. Have you suffered an injury that prevents you from working normally? Your income loss, combined with mounting medical expenses, can be disastrous for you and your family.
Contact our New York law firm for a free consultation if the construction accident was caused by someone else's negligence. Gregory Spektor & Associates' attorneys have years of experience representing individuals and construction workers in New York City.
Contact – Construction Accidents Lawyer In Far Rockaway, NY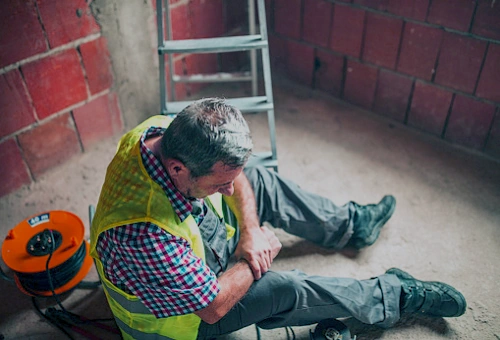 Work-Related Injuries
Workplace injuries can put a financial, physical, and emotional strain on a person. That is why the attorneys at Gregory Spektor & Associates go above and beyond to ensure that our clients receive the best possible settlement. If you have been injured at work, please contact us for a free consultation.
Contact – Work-Related Accidents Lawyer In Far Rockaway, NY
Slip and Fall Accidents
It's unfortunate when you suffer a serious injury because someone else failed to act properly. Our New York lawyers understand the challenges of recovering from the physical and emotional trauma caused by slip and fall accidents. We work hard to help our clients reach favorable claim settlements. Please contact us for more information and a free consultation.
Contact – Slip and Fall Accidents Lawyer In Far Rockaway, NY
Medical Malpractice
When you seek treatment for an illness or injury, you put your trust in your healthcare provider or physician. You trust your doctor and rely on their training and expertise to treat your condition.
In the majority of cases, patients receive appropriate treatment. They leave the doctor's office or hospital with the medical equipment or medications they require to solve their problem. However, doctors and other medical professionals make mistakes from time to time. Unfortunately, the consequences of medical errors are usually severe and long-lasting.
Whether you sustained a personal injury due to willful negligence or an accident, you will have to live with the consequences, which can be devastating for you and your family. When this happens, you should hire a medical malpractice lawyer to help you get the best possible outcome. Call our New York law offices for a free consultation.
Contact – Medical Malpractice Accidents Lawyer In Far Rockaway, NY
Premises Liability Claims
Every day, you leave the security and comfort of your home to explore the world for a variety of reasons. Most of the time, people go out and return home safely. However, things do not always go as planned.
Businesses and property owners must maintain a certain level of care for the safety of their properties and surrounding areas. Accidents can occur when a negligent property or business owner fails to meet all of the building and grounds' safety requirements. The property owner may be held liable for any injuries caused by negligent maintenance.
Do you need a top-tier personal injury attorney in New York to handle your premises liability claim? If this is the case, contact Gregory Spektor & Associates for a free consultation. We will investigate the facts of your claim to determine the extent to which the property owner or business owner is responsible.
Contact – Premises Liability Claims Lawyer In Far Rockaway, NY
Wrongful Death Lawsuits
Accidents happen without warning, which is an unfortunate fact of life. Life can become unpredictable and frightening as a result. However, it also makes life more worthwhile. In New York, the possibility of a major incident or accident is always present. When such accidents occur as a result of someone else's negligence, victims must fight for fair compensation and justice.
Accidents can result in untimely and wrongful death in certain circumstances. These are the kinds of mishaps that everyone fears. Family members of wrongful death victims should seek expert legal representation from wrongful death attorneys such as Gregory Spektor & Associates.
When you lose a loved one as a result of someone else's carelessness or act, the emotional trauma you endure can be devastating. Funeral expenses, medical bills, lost income, and other factors can completely upend your life. You will need the assistance of a dedicated legal professional to help you reach the best possible settlement.
Contact – Wrongful Death Lawsuits Lawyer In Far Rockaway, NY
Defective Product Lawsuit
Consumer goods, medical devices, food, chemicals, medications, and children's products are some of the commodities that are frequently the subject of defective product lawsuits. Manufacturers are responsible for keeping their products safe for use. So, if you suffer a personal injury as a result of a defective product caused by the manufacturer's negligence, you should hire a skilled lawyer to file a lawsuit on your behalf.
Contact – Defective Products Lawsuits Lawyer In Far Rockaway, NY
Nursing Home Negligence
Nursing home residents should be provided with the necessities and care they require. Otherwise, the staff members responsible for the patient or the nursing home may face negligence lawsuits. After all, no one deserves to be neglected or abused. If you or a family member has been subjected to nursing home abuse or negligence, please contact our New York law offices for a free consultation.
Contact – Nursing Home Abuse Lawyer In Far Rockaway, NY
Far Rockaway Personal Injury Lawyers
When you suffer a personal injury as a result of the carelessness or negligence of another person or institution, determining the next steps can be difficult. You may also be dealing with a lengthy recovery from physical and mental pain, lost income, medical expenses, and other issues.
You can, fortunately, file a claim under personal injury law. However, the procedure can be quite difficult.
At Gregory Spektor & Associates, P.C., we have a team of skilled and experienced attorneys who are well-versed in the legal community of Far Rockaway and the surrounding areas. We specialize in a wide range of personal injury cases and strive to provide the best legal representation possible.
We understand how to construct compelling cases for our clients in order to obtain the fair and maximum monetary compensation they deserve. Our caring, friendly, and knowledgeable legal team has the resources and commitment to assist you with your personal injury case. For a free consultation, call 1(800)-318-8888. You can also come to our Rosedale, New York, law offices.