Motor vehicles make it easier for people to get around New York and go about their daily lives. Your car can help you get your children to school, work, run errands, and do other things. Every driver hopes to drive safely and return home, but this is not always the case.
Regardless of how cautious you are while driving, you can end up in a car accident, major or minor. Car accidents are unforeseeable and tragic events that can occur to anyone on the road. You could be involved in a car accident while speeding down the highway or simply backing out of a parking space.
The extent of the damage will determine whether your car accident is major or minor. Major car accidents cause extensive damage that renders a vehicle useless and undrivable, a condition known as "totaled." Such an accident could also result in serious, life-threatening injuries and long-term complications. You will also incur financial losses as a result of insurance claims, car repairs, and medical bills. Hiring a car accident lawyer is required for legal advice and representation following a major car accident.
Minor car accidents cause minimal damage and few or no personal injuries, making them more of an inconvenience than a threat to life. They should not be ignored, however, and you may need to hire a car accident lawyer. Following a minor accident, Gregory Spektor & Associates can provide you with high-quality legal representation and advice. Here's what you should know about minor car accidents and why you should hire one of our knowledgeable attorneys.
What Is a Minor Car Accident?
There is a fine line between a major and a minor car accident, and most people cannot tell the difference. A minor accident results in minor vehicle damage and injuries that do not necessitate immediate or long-term medical attention. The damage to the vehicle does not impair its ability to operate, and you will be able to drive safely away from the scene. During a minor accident, you may notice the following:
Busted tires.
Cracked windshield.
A slight fender bender.
A small dent on the side of the car.
Busted headlight or taillight.
Minor injuries that do not endanger your life or render you disabled are possible. Some may progress to serious injuries if left untreated, so you should always seek medical attention following an accident. Following a minor accident, you may sustain the following injuries:
Concussion.
Broken bones.
Whiplash.
Muscle pulls, strains, or stretched ligaments.
Bruises or scratches.
Traumatic brain injury.
Traumatic brain injuries, for example, can take days or weeks to manifest, so you may not realize you have had one for a long time. The impact of the accident can result in whiplash, which causes damage to the neck muscles, skull, and, in some cases, the spinal cord. Seeing a doctor after a minor car accident will allow minor injuries to be treated before they become life-threatening.
What Should You Do After a Minor Car Accident?
You could be driving slowly through New York streets when you are suddenly hit by another vehicle. You and the other driver realize that your vehicles have minor damage, perhaps only a scratch, and decide not to report or exchange information.
It would be a huge mistake and a criminal offense. To avoid getting into trouble after a major or minor car accident, you should follow a procedure. It is important to remember that even if an accident appears minor, you may develop injuries or notice damage days later.
Following a minor car accident, you should take the following steps:
Move Your Vehicle Off the Street

If your vehicle is safe and operational, move it off the road to allow traffic to continue flowing and to prevent inattentive drivers from colliding with the scene.

Check For Physical Injuries

Some injuries may be visible, while others will necessitate a medical professional's diagnosis. Injured victims should seek immediate medical attention at the scene of the accident if they have visible injuries. Visit a hospital or medical facility to check on those who may not be in immediate danger as a result of the accident.

Exchange Contact and Insurance Information with the Other Driver

Obtain the contact information for the driver as well as any other parties involved. It contains their names, addresses, driver's license numbers, and phone numbers for you to contact them if they need to provide statements later. Take down their insurance information, such as their insurance company's name, phone number, and policy number.

Take Photos of the Accident Scene

Taking photos and videos of details at the scene can aid in the gathering of evidence and determining who was at fault. The details include images of the vehicles involved, taken from various angles, as well as the location of the crash.

Call The Authorities

After a minor car accident, you may be hesitant to call the police and file a report, especially if the damage is minor. Although filing a police report is not required, failing to do so can leave you legally vulnerable to accusations and limit your ability to obtain financial compensation.

Regardless of how minor the accident was, it is critical to notify law enforcement officers. An officer will arrive on the scene and complete an official accident report, which will help protect your legal rights. If you do not have an official police report, your insurance company may refuse to pay for damages.

Call Your Insurance Provider

Contact your auto insurance company and provide them with detailed information about the accident. Your auto insurer will handle the details and protect you from any claims made by third parties. If your vehicle has minor damage and the other driver was at fault, you should file a motor vehicle collision claim with their insurance company. If you sustain minor injuries in the accident, you should also file a personal injury claim.

Stay at the Scene Until Cleared

Authorities may issue an arrest warrant for fleeing the scene of a car accident. Stay in your vehicle until the officer gives you permission to leave. You may leave the scene only if the injuries sustained require immediate medical attention.

Consult A Car Accident Lawyer

Getting in touch with a car accident lawyer can help you protect your legal rights and influence the outcome of your insurance claims. Gregory Spektor & Associates' experienced car accident attorneys will assist you in exploring your legal options and obtaining the compensation you deserve. Our personal injury attorney can assist you in obtaining compensation for:

Pain medication, hospital expenses, and other medical bills from treating motor vehicle-related injuries.
The income you lost while recovering from your injuries.
Pain and suffering you experienced through physical and emotional trauma.
Car repairs.

A car accident lawyer can assist you in determining who is at fault and calculating the exact value of your insurance claim.

Regardless of how minor the property damage is, it is critical to report the accident to the police and your insurance company. Giving your insurer details about the minor accident will allow them to document it and know what to do if you damage the same part again. Contacting authorities will assist you in obtaining a police report, which is essential during a personal injury lawsuit.

It will include information about the accident, such as how it happened, the extent of property damage, the nature and extent of injuries, and who was at fault. Before speaking with your car accident attorney, you should avoid speaking with insurance adjusters and posting your accident on social media.
Why Should I Hire a Lawyer for a Minor Car Accident?
It is critical to retain the services of a car accident attorney to protect yourself from legal claims made by other drivers or involved parties. A car accident attorney is a personal injury lawyer who focuses on tort law in relation to both major and minor car accidents. They assist you in putting together a strong case and obtaining full compensation for damage caused by other drivers if you were not at fault.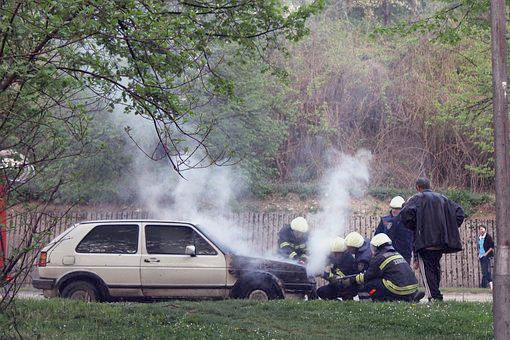 The personal injury attorneys at the New York City law firm will collect sufficient evidence to ensure you receive the justice you deserve. In the event of a minor car accident, Gregory Spektor & Associates will provide you with the best legal representation and personal injury protection. Here are some of the reasons why you should hire one of our car accident attorneys for a minor collision.
They Help You Understand Your Legal Rights

Most New Yorkers are unfamiliar with personal injury law pertaining to minor accidents, so they are unaware of their full legal rights. The party at fault is liable for all damages resulting from the accident, and injured victims can sue them for compensation.

If the evidence shows that you were not at fault, you are not required to pay for any accident-related damages. A car accident lawyer will walk you through the laws that apply to your case and make you aware of your legal rights. They will give you more legal protection and control over how your case is handled against insurance companies.

They Handle Your Insurance Company

In the event of a minor car accident, getting fair compensation can be one of the most difficult things to do without the assistance of an attorney. Insurance companies want to make a profit, so they may deny your claim or provide you with less compensation than you deserve. A car accident lawyer can assist you in negotiating with the insurance company to obtain full compensation for personal injuries and property damage.

They Carry Out Investigations

Your car accident lawyer can assist you in gathering critical evidence that will help your case. To build a strong case, they examine evidence such as witness statements and photographs or videos taken at the scene of the accident. Police reports and medical records are also valuable resources for you and your attorney.

They Assess the Extent of Your Damages

The car accident lawyer will consider not only the immediate costs of the accident but also how the accident will affect you in the future. They compute estimates based on your current and future medical expenses, as well as the impact of the accident on your ability to work. They also consider the emotional and mental impact of the minor accident before calculating the total damage.

They Offer Legal Advice

People may have different ideas about what you should do after a minor car accident, leaving you perplexed. A car accident lawyer knows what to do in such a situation, providing you with the best option.

Gregory Spektor & Associates has years of experience and training in dealing with car accident claims. They can assess your situation and provide you with the best legal advice on how to recover. Our personal injury attorneys give you the best chance of winning a personal injury lawsuit and receiving fair compensation.

They Negotiate for a Fair Settlement

After a minor accident, the other driver may decide not to pay you for the damages or may offer you less than you deserve. There is more to a car accident than just property damage and personal injuries; you must also consider your mental health and disfigurement.

The lawyer will assist you in determining the full extent of your damages, which will be critical when negotiating a settlement with the insurance company. They have the necessary knowledge and skills to handle such negotiations, ensuring that the insurance provider gives you what you are entitled to.

They Offer Legal Representation in Court

The majority of minor car accident cases are settled out of court. The lawyer can communicate with the insurance company on your behalf to ensure you receive fair compensation for your losses. You may file a lawsuit if the insurance company fails to reach an agreement with your attorney or does not provide adequate compensation. Your attorney will represent you in court, fighting for your right to a fair settlement. They will be by your side throughout the case, preparing for whatever the insurance company throws at them.

Hiring an experienced car accident lawyer will provide you with peace of mind and allow you to concentrate on recovering from physical injuries and stress. They will handle your situation professionally and ensure that your case is handled in your best interests. They can also assist you in obtaining compensation from your insurance policy if the other driver does not have coverage. A personal injury claim can be filed up to three years after the accident, but it is best to file as soon as possible.
How Do You Determine the Worth of a Car Accident Claim?
Minor injuries sustained in a car accident can limit your ability to go about your daily activities. Compensation from the insurance company will assist you in recouping medical costs, lost income, and pain and suffering.
Calculating the exact cost of personal injury after a minor accident can be difficult. Gregory Spektor & Associates' experts will assist you in calculating and determining the exact amount of compensation you deserve from your insurance claim. The amount of compensation you receive from your insurance claim is determined by several factors, including:
The extent of vehicle damage.
The extent of injuries sustained.
The need for hospitalization, surgery, therapy, or rehabilitation.
The amount of income lost during recovery.
Future medical expenses.
The extent of mental and emotional suffering.
Professional Car Accident Lawyers in New York City
Hiring a lawyer for a minor accident is essential, especially if you are injured or seeking compensation. With a professional lawyer on your side, you have a better chance of receiving a fair settlement from insurance companies. If you represent yourself and file an insurance claim, you may end up settling for less than you deserve.
Gregory Spektor & Associates' attorneys use their extensive knowledge and experience to fight for your injury claim. We devote all of our efforts and determination to establishing a strong attorney-client relationship and ensuring that you receive the justice and compensation you deserve.
We understand how a minor car accident can affect your physical and financial health. During your free case evaluation, we will discuss your situation and get your side of the story in order to develop a foundation for your case. We gathered evidence from police reports and witness statements at the accident scene.
We then provide an outline of your best viable options, ensuring that you fully comprehend the procedure and how your case will be handled. Our personal injury attorney will ensure that you receive the best possible outcome and full compensation. We work on a contingency basis, which means that if you win your case, the attorney will only receive a percentage of your settlement.
Our experienced legal team provides a wide range of legal services to New York City residents. To schedule a free consultation, please call 1(800)-318-8888.