On a daily basis, Americans all across the country are going to grocery stores, malls, and other businesses for a variety of reasons. As they walk through the parking lot or around the store, they expect that the conditions within the store are safe and secure. Many people are able to walk in and out of the store without incident and go about their day, finishing errands or enjoying time with their families. Others, however, are not as lucky.
Unfortunately, accidents do sometimes occur when a property owner fails to warn visitors of a potentially hazardous condition or does not take care of the issue in a timely manner.
During the winter months, for example, stores and their employees are responsible for ensuring that the parking lot is as safe as possible for customers to drive, park, and walk on. They must also ensure that the inside of the store remains dry, especially in the entrance and exits.
When the floor is wet or covered in snow and ice, the conditions are less than ideal and falls can and do occur. It is imperative that employees mop up the excess water brought in on other customers' shoes and warn incoming or exiting customers that the floor may still be wet and to take care not to slip. If these actions are not taken and a customer falls, that store may be held liable for the injuries sustained on the property.
There are also situations in which the accident victim could share blame for the fall. In New York, we follow a "pure comparative" negligence system, so it is possible that an accident victim may not be able to recover 100% of damages for their injuries because they are partially liable for the accident.
One of the duties of your New York slip and fall accident lawyer is to mitigate the amount of shared fault that you may have placed on yourself so that you are able to recover as close to 100% of the damages you are owed.
What Is a Slip and Fall Accident?
Individuals who slip and fall in a store, on broken sidewalks, or in the parking lot have the potential to sustain serious injuries as a result of the fall. From a traumatic brain injury to broken bones to spinal cord injuries and a variety of other medical issues, slip and fall accidents can be catastrophic to the victims.
When a slip and fall injury occurs due to a property owner's negligence, the injured parties (or the surviving family members in the instance of a fatality) deserves to file premises liability lawsuits against negligent property owners and fight for full and fair compensation for their injuries.
Slip and fall accidents, though, can be very difficult to litigate and requires the legal advice and representation of an experienced personal injury law firm to prove liability against private property owners and get fall victims the compensation they deserve. In a slip and fall case, it is important that injured victims hire the legal services of a personal injury attorney so that they will not have to worry about paying for piling medical bills which cannot be paid due to lost wages.
Injured parties should be able to take time to focus on their recovery process rather than deal with insurance companies, lawyers for property owners, and others who inevitably get involved in these slip and fall cases.
An experienced slip and fall attorney should be the one to handle all of these entities. A challenge for injured parties is finding a New York City slip and fall lawyer to represent their best interests and work to get the maximum compensation in a personal injury case.
Just like other types of injury cases, a slip and fall accident deserves to be thoroughly examined, and the victims who sustained the injuries should be compensated for their losses. It is important that accident victims contact an attorney as soon as possible following the incident to avoid the statute of limitations expiring before the lawsuit can actually be filed. If the statute runs out, there is nothing that can be done, and the accident victims may be left without any compensation.
Contact an experienced lawyer quickly to ensure that you are able to fight for as much compensation as possible.
RELATED: Is a Store Liable for Your New York Slip and Fall Accident?
What Is Shared Fault?
One of the most difficult aspects of slip and fall accidents is the fact that proving liability may be impeded by the possibility that you as the victim may share fault with the property owner. The defendant (other than their attorney or insurance company) may attempt to show that you were partially or totally to blame for the trip and fall.
In New York, the state follows a "pure comparative" fault system which means that if it is found that each party involved in the slip and fall accident contributed to the accident, then each party may be able to recover damages at a certain percentage based on their fault level.
The defendant may use an analysis of the situation to demonstrate that you as the plaintiff shared a portion of responsibility. For example, if you were engaging in a distracting activity that impaired your ability to notice a hazard, you may be partially at fault for the accident. Texting rather than paying attention to the sidewalk in front of you may be a reason for the shared fault. If you ignored appropriate warning signs or were in an area that you were not legally permitted to be in, then you may also share fault for any falls or accidents that occurred.
Obviously, these circumstances are quite subjective. For instance, what is considered "appropriate warning signs"? If a sign is posted but something is partially obscuring it, does that still warrant the "appropriate" distinction?
As we have said, slip and falls are difficult and complex to litigate and prove liability, so it is integral that accident victims entrust their cases to experienced attorneys who are dedicated to proving the liability of the property owner and working to get you the best possible outcome.
You deserve compensation for your injuries and losses, and you should not trust your case to just anyone. Contact our expert slip and fall attorneys at Gregory Spektor & Associates to discuss your case and to start down the road to recovery.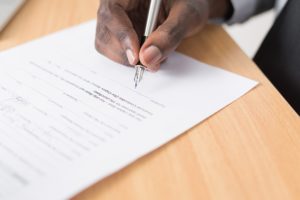 How to Find The Right New York City Slip and Fall Lawyer for Your Case
There are several important factors to consider when you are looking for the right New York City slip and fall lawyer to represent fall cases and fight to obtain compensation for medical expenses, lost wages, lost income potential, pain and suffering, and other monetary damages in settlements.
Some of the factors you should take into consideration when searching for the right personal injury attorney to handle your lawsuit are:
Experience in Slip and Fall Cases
All legal cases can become very complex and involve a variety of different entities as well as lots of evidence to sift through. However, trip and fall lawsuits are especially difficult because of the requirement of proving negligence and liability. A property owner can only be held liable if certain conditions are met.
Your legal team must demonstrate that a slip and fall caused by hazardous conditions should have been remedied by the property owner but that person failed to do so or a potential hazard was purposefully left as an obstacle and it was reasonably foreseeable that someone would fall as a result. Winning compensation claims in a slip and fall case takes experience and determination on the part of the attorney.
Expertise in New York City Personal Injury Law and Litigation
In addition to experience handling these cases, slip and fall lawyers should be trained experts in personal injury. If an attorney claims to be able to handle personal injury claims but does not specialize in them, it is unwise to entrust your case to that law office.
Slip and fall lawyers have a deeper understanding of liability law and are dedicated to fighting for those who have suffered injury as a result of someone else's negligence. A bankruptcy attorney or family lawyer may be able to handle the case, but they may lack the expertise required to truly get the job done and work for the compensation you deserve from the negligent property owner.
Your slip and fall accident lawyer should also be willing and able to take the property owner to court and prove liability for your fall injury.
Prior Results
With experience and expertise comes positive results for previous clients. When you are searching for a law office to begin an attorney-client relationship with, it is important that you can find a history of prior positive results where the victims who suffer injuries as a result of a dangerous condition were awarded settlements to pay for their medical treatment, lost income, and pain and suffering.
If a New York City law firm claims to have slip and fall lawyers but cannot provide you statistics of prior positive results in a slip and fall lawsuit, it is time to continue your search. Most attorneys are proud of their results and are happy to share them with new potential clients. Be sure your lawyer has proven positive results with slip and fall accidents so that you are not left out in the cold wondering how you will pay for your medical expenses and other financial burdens associated with your accident.
Investigative Abilities
Slip and fall accidents are complex because of the burden of proof when it comes to liability in New York City. Situations, where a slip and fall injury occurred, need to be thoroughly investigated so that responsibility can be proven, but it takes resources to be able to do that.
If your New York City slip and fall lawyer is unwilling or unable to invest in a thorough investigation as well as seek out medical reports and other forms of proof that negligence caused your traumatic brain injuries, soft tissue injuries, or other losses, it is best to continue looking for a law firm who has your best interests in mind.
Hiring a private investigator is a common practice in the legal world, and it may be one of the only ways to get a fair and impartial evaluation of the situation from an outside perspective. Attorneys often consider the cost of the investigator when determining expenses for the case. Without the investigation, your case may not be properly and efficiently handled.
Ability to Interpret Medical Records and Evaluations
Not only should you demand the legal representation of a slip and fall lawyer with experience and expertise in the law but also one who is able to interpret medical records and evaluations to help prove your case.
When injuries require medical attention, those doctors' reports are invaluable to the lawsuit you file against a negligent party. However, lawyers representing victims of slip and fall accidents must be able to understand the medical reports, interpret them, and call upon medical experts to assist them in proving negligence.
Excellent Reviews From Prior Clients
Just like any other business, a law firm representing victims of slip and fall accidents should have positive reviews from prior clients. Whether these are online reviews that you find through search engines or referrals from individuals you trust, it is important that you are not hiring a slip and fall accident lawyer without prior confirmation of their ability.
Even getting a referral from another attorney (such as your business lawyer or real estate attorney) will be helpful in making your decision since many legal websites may not provide you a unique reason to hire one attorney over another.
The recommendations of a previous client or referral from a trusted source can truly make or break your decision to hire a certain legal team.
Free Consultation
As victims of slip and fall accidents, you may not have enough money to pay for an initial consultation with a New York City attorney. There are plenty of things that need to be paid for on a regular basis (rent/mortgage, utility bills, groceries, etc.) when you are not also dealing with piling medical bills from an accident injury. You are likely trying to save as much money as possible, and paying for an initial consultation is not a good way to do so.
When you are searching for the right New York City slip and fall lawyer for your claim, be sure to find one such as Gregory Spektor & Associates that offers a free consultation to discuss your case and find out if you are even eligible to fight for compensation.
There is no reason to be forced to pay just to talk to a slip and fall attorney only to find out that they do not believe you have a case. The free consultation should be an essential factor to consider in your search for a slip and fall accident attorney.
If you or a loved one sustained injuries caused by unsafe conditions in a public or private place, contact an experienced New York City slip and fall accident attorney to discuss your legal options, take legal action, and help you recover damages for injuries resulting from the dangerous conditions.
You Might Also Like: Common Injuries Sustained After a Slip and Fall Accident
Contact Our New York City Slip and Fall Accident Lawyers
At Gregory Spektor & Associates, we are a Queens, New York-based law firm specializing in representation and litigation for victims of slip and fall accidents as well as other injury practice areas such as automobile accidents, construction accidents, medical malpractice, wrongful death claims, and premises liability.
If you or a loved one has sustained injuries as a result of a slip and fall accident in New York City, contact our experienced slip and fall lawyers to schedule a free consultation to discuss your case.
Our slip and fall accident attorneys use our vast experience and comprehensive knowledge of the local legal community to give fall accident victims the proper legal representation they deserve. We understand how devastating it can be to be injured in an accident caused by someone else's negligence and not be able to function as normal.
When you hire a slip and fall attorney from Gregory Spektor & Associates in New York, you can rest assured that we will do everything we can to fight for your rights as a victim and to get the best possible outcome for your case.
Our legal team is here to take on the challenges associated with your accident so that you can focus on healing. We know that there will be physical, emotional, and financial trauma resulting from common injuries from the accident, and our goal is to help you file a suit against the negligent party.
Whether your trip and fall were caused by wet floors, broken railings, hazardous objects in the path, or any other circumstance on the premises of a public place or private home, we will fully investigate your case and work diligently to give you the best chance to receive compensation. We take our duties and responsibilities as your lawsuit team very seriously.
If you or a loved one has sustained slip and fall injuries as a result of another person or group's negligence and you believe you may have a slip and fall case, contact Gregory Spektor & Associates. Our legal team is here to listen to your case, evaluate its merits based on the circumstances, and help you work for the best possible outcome.
We want to assist you in recovering damages through legal means, and we are more than willing to go to court and demonstrate why you deserve compensation. Contact us today to learn more about slips and falls, discuss your claim, and schedule your free consultation with our lawyers. Do not let the statute of limitations expire on your chance to file a premises liability lawsuit.