Out of the many jobs and occupations in the United States and around the world, almost everyone would agree that construction work is one of the most dangerous. Every day construction workers use heavy machinery, complex techniques, and large objects to complete architectural designs for buildings and other structures meant to last for many years. At these sites, one wrong movement or a moment of negligence can result in serious injuries or even the death of another worker.
As a New York construction worker, you can take pride in knowing that you have been a part of a construction project which has a lasting effect on those who utilize the building or other type of construction. You may be able to walk by your previous construction site and say that you were a member of the team that built it. However, construction sites can also be very dangerous places and often pose serious threats to construction workers.
Workplace accidents happen all the time and in almost every occupation, but construction is certainly considered the most dangerous industry in the United States. Working with heavy machinery, dangerous chemicals, and large objects all pose threats to each construction worker on the job site.
Those construction workers who are often stationed on high beams run the risk of falling or being accidentally pushed. The level of danger on a construction site is exponentially higher than in many other workplaces and offices.
Those who have been injured at a construction site or been involved in a construction accident and incurred losses due to another person's negligence or carelessness or the construction site manager's failure to provide reasonable and adequate protection for their employees deserve to fight for compensation and justice.
Possible serious or fatal injuries from construction accidents can range from concussions and traumatic brain injuries to broken bones, amputations, and even construction fatalities, so it is critical that individuals involved in construction accidents seek the legal counsel of experienced NYC construction accident lawyers such as ours at Gregory Spektor & Associates.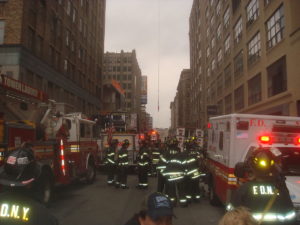 Most Common Construction Accidents
At Gregory Spektor & Associates, our New York construction accident attorneys have represented many an injured construction worker involved in a variety of different types of personal injury cases and workers' compensation claims from construction sites. The circumstances are as unique as the individuals we represent, but there are certain situations that resemble other cases. Some of the most common construction accident occurrences our personal injury lawyers have seen include:
Accidental Falls
According to the Occupational Safety and Health Administration (OSHA), accidental falls at a construction site are the leading cause of construction site injuries. Construction accidents were responsible for 20% of all worker fatalities in the private industry in 2019, and the top OSHA standard violation involved a lack of fall protection.
On a construction project, property owners and employers frequently neglect training or safety measures for workers when it comes to working at elevated heights. Whether it is a ladder fall or you off of a beam high above the ground, you could sustain serious injuries that may be life-altering. Even tripping and falling over inappropriately marked or unburied wires or other objects on the ground can be considered an accidental fall and may be eligible for a lawsuit. Injured construction workers should seek legal advice and representation from a construction accident lawyer for their workers' compensation claim.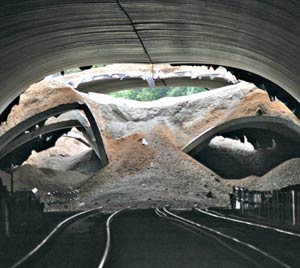 Trench Collapses/Tunnel Collapses
When a tunnel, trench, bridge, or parking structure collapses, the injuries can be catastrophic and life-threatening. If the construction of the trench does not meet the OSHA standards or there was a faulty design, those who have sustained injuries deserve to fight for compensation settlements from those who were at fault due to being negligent.
It is unfathomable for most people to imagine being trapped underneath hundreds or thousands of pounds of rock or metal which is why a trench or tunnel collapse can be so severe and result in the most heinous of injuries or fatalities. Dangerous equipment is also often used when the tunnel or trench is being constructed or maintained, and workers have often suffered injuries on the type of worksite when using the equipment.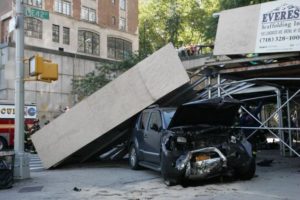 Scaffolding Accidents/Collapses
In the New York labor laws, there is a Scaffolding Law which offers positive verdicts and settlements to those who have fallen from faulty scaffolding or been struck by a falling object having been knocked off of a defective scaffold. The law holds a property owner, general contractors, and employer liable for the pain and suffering of injured workers as long as the circumstances of the construction accident case involve a difference in elevation.
Walking down the streets of New York City will quickly reveal the presence of scaffolding throughout the city in a variety of places because there are construction projects everywhere. Those who are unfortunate enough to be on a faulty scaffolding structure should fight for compensation.
Electric Shock
Almost everyone has felt the sudden jolt of a minor shock after building up static by walking on the carpet with socks. Imagine that tiny shock amplified for construction purposes. On a construction worksite, there will often be high voltage currents running through many of the buildings and machinery used on the project.
Shocks can be caused by overhead power lines, damaged cords, defective tools, a lack of ground-fault protection, improper wiring, and inappropriate use of extension cords. An electrical accident may cause a high electrical current to run through your body resulting in electric shock, burns, and even electrocution. This may burn your skin and/or cause severe damage to your internal organs.
Arc Flash and Arc Blast Burns
When a powerful, high-amperage current travels (arcs) through the air, this is known as an arc flash. This flash creates intense heat and light, and those near the flash may sustain serious burns which may require skin grafts or amputations.
Additionally, the energy that is released may create up to 1000 pounds of pressure, and this amount of pressure may cause hearing loss and have the ability to hurl people into nearby objects. The proper safety equipment and regulations are required when an arc flash may be created on a job site to prevent serious injury.
Repetitive Motion Injury
While many construction professionals suffer a work-related injury due to a sudden accident, other workers may develop chronic pain from medical conditions brought on by repetitive motions done at a worksite over many years.
Many people do not consider how these types of long-lasting injuries can seriously affect your life, especially after you have retired. Carpal tunnel syndrome and arthritis are just two of the many types of chronic conditions common for construction workers, and an experienced attorney in New York can demonstrate how the work done on construction projects was the direct cause of these conditions.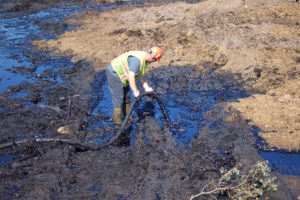 Toxic Substances Exposure
Safety on a construction site should clearly be a top priority for all those involved, especially when the job site includes the demolition of or work within an old building. The demolition could release harmful chemicals like lead and asbestos, and this toxic exposure could have severe repercussions on all those working at the New York construction site. Asbestos, for instance, has been shown to be a cause of cancer in those who are exposed, so it is integral that workers are protected from exposure to toxic chemicals and substances as much as possible.
Injured workers should discuss the potential for a construction accident lawsuit based on the lack of safe working conditions or safety equipment with an experienced personal injury attorney. After a thorough investigation, compensation may be available for medical care, lost wages, pain and suffering, and more.
Caught Between/Crushing
Another common type of construction accident is when a worker becomes trapped between two objects or machinery or is crushed by a heavy object on the site. Workers may be squeezed, crushed, pinched, or compressed between objects or heavy equipment and be unable to free themselves without the intercession of another person.
The worker may also be caught underneath falling objects as in a trench collapse or excavation work. These situations can most certainly result in some of the most serious injuries such as paralysis, amputation, internal organ damage, spinal cord/back injuries, and even fatalities, especially if the individual is not freed from between the objects quickly. Personal injury attorneys can investigate the circumstances of these accidents and fight for workers' compensation benefits for the victims in a lawsuit.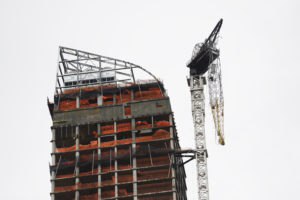 Crane Accidents
Cranes are essential in many construction sites because of their many uses. However, they can also be very dangerous if something goes wrong on the job site. Even something as simple as the load being too heavy for the crane can result in serious injuries from falling objects.
New York construction accident cases that involve cranes may also have many parties who share liability and can be held responsible for the workers' compensation of injured employees, according to New York labor law.
To protect construction workers who have been injured, NYC construction accident lawyers such as ours at Gregory Spektor & Associates offer a free consultation to discuss your case, figure out who is responsible (crane operator, manufacturer, general contractor, employers), and develop the best possible legal strategy for your personal injury lawsuit.
Roadside Construction Zone Strikes
When working at a road construction site, it is an unfortunate reality that drivers are careless on the road and fail to give an appropriate distance or travel at the posted speed in the construction zone. This has resulted in construction workers being struck by a vehicle and sustaining serious injuries such as back injuries and broken bones.
There are construction zone speed limits posted for a reason, but when drivers fail to use the appropriate level of caution, many roadside workers are injured or killed. These individuals deserve to fight for justice and compensation in Queens County.
Other types of accidents may occur during construction work, but these are the top 10 circumstances that cause construction accident injuries that our personal injury law firm has seen most often. They are also the types of New York construction accident cases our attorneys have handled for those in the construction industry.
However, if your construction injury was the result of another circumstance not listed above, you should certainly still contact our experienced attorneys to discuss the details of your claim and discover whether or not New York City labor law can be applied to your situation so that you can file a lawsuit and fight for compensation.
Also Check Out: Returning to Work After an Injury and When to Talk to a Workers Compensation Attorney
When a Construction Worker Should Call a New York Personal Injury Attorney
If you or a loved one is a construction worker in New York City and you have been involved in a construction accident, you may be eligible to fight for compensation for your injuries. Our New York City construction accident attorneys at Gregory Spektor & Associates understand how devastating it can be to sustain serious injuries from a construction accident, and we want to help those in the construction industry get justice.
We know that you want to be able to work and complete your job, but the injuries you've suffered are preventing you from doing so. It is simply not fair because it is not your fault that you cannot work but still have bills piling up. Not only do you now have to deal with the pain from your injuries, but there is also the struggle associated with the stress caused by medical bills, daily expenses for life (rent, groceries, utilities, etc.), and other aspects of your life that you can no longer participate in.
Because these accidents are workplace-based, they may be eligible for workers' compensation benefits, but there are often time constraints associated with the incident. If individuals wait too long to file lawsuits after construction site accidents, the statute of limitations based on the New York labor laws may have expired. This would be catastrophic, especially if an injured worker has piling medical bills from the construction accident injury and lost income which would be needed to pay for them. For this reason, it is important that injured construction workers contact NYC construction accident attorneys as soon as possible to discuss the possibility of filing a lawsuit and begin to develop an attorney-client relationship from the first free consultation.
An experienced attorney will be happy to listen to your case and help you determine if you may be eligible to file a claim. Legal experts understand what will be accepted according to the labor laws and how they can go about fighting for compensation and justice for you.
When you decide to file a personal injury claim because you suffered injury as a result of performing your assigned job duties, your construction accident lawyer will begin to investigate the circumstances of the accident, work to determine who the liable party is, and start to develop a legal strategy to best fight for the compensation you deserve.
Verdicts and settlements are not automatic in these cases, so your attorneys will need to gather as much evidence as possible to prove your claim for negligence. You will also discuss your case during each consultation, and the medical evidence will also be used so it is critical that you get checked out by a medical professional very soon after the accident occurred. If the case involves wrongful death, a coroner or medical examiner's report may also be used as evidence in order to determine the cause of death and how it relates to the accident at the job site.
During the course of your construction accident case, it is the job of your New York labor law expert to deal with insurance companies, those involved with the workers' compensation system, and collection agencies for medical expenses. As the injured worker, it is your task to only focus on recovery from your multiple injuries caused by a negligent party. Construction injuries can be severe, and it takes strength to heal those injuries.
Dealing with insurance and other organizations takes energy away from the recovery process. Our construction accident attorneys strive to allow you to focus on healing while we fight to get you compensation for medical costs, lost wages, pain, and suffering, and the other detrimental effects of your accident.
We will always keep you updated on your case, especially when motions are filed or something important has occurred. Do not worry about your claim because our attorneys have your best interests at heart and will not allow insurance companies to deny you the compensation you deserve for your accident injuries.
From head injuries to a back injury, traumatic brain injuries to internal organ damage, and everything in between, our lawyers at Gregory Spektor & Associates will work diligently on your lawsuit and hold negligent parties responsible.
For those who were killed on the construction site, our legal team will work to ease the burden on the family caused by the loss by fighting for compensation to pay for funeral expenses and other financial issues from the death.

Contact Our Construction Site Accident Lawyers
At Gregory Spektor & Associates, we know the stress, pain, and suffering associated with workplace injuries or death caused by another's negligence. Our legal team believes that the victim of construction accidents deserves workers' comp benefits to help pay for medical bills and living expenses, and we know that filing an accident claim will be the best chance that victims have to actually get that compensation.
The construction site accident attorneys at Gregory Spektor & Associates focus on helping you get back on your feet and heal physically and emotionally after your injury. We will use our knowledge of labor laws and workers' compensation regulations as well as our experience handling personal injury lawsuits to fight for your rights.
Our New York City attorneys truly go the distance and do everything possible to help victims of construction site accidents to hold responsible parties liable for their negligence. It all starts with a free consultation.
If you or a loved one feels you may have a legal case against a contractor, construction site owner, manager, or professional engineer in New York City, contact our legal team to get started with your lawsuit. We are happy to discuss your personal injury lawsuit and determine if you may have a legitimate construction accident case. Call today to work for the justice you deserve!
In addition to construction accidents, we also represent clients in other personal injury fields, including car accidents, work-related injuries (non-construction), slip & fall, medical malpractice, premises liability claims, defective product lawsuits, and wrongful death lawsuits. Contact us today to learn more and to set up your free consultation.