When a business requires an individual to sign a liability waiver before entering the premises or participating in an activity, the property owner will generally believe that the waiver prevents any kind of liability or responsibility from falling on their shoulders should you or anyone in your group sustain injuries. However, there are exceptions to the liability waiver, and certain causes of trip and fall accidents may not actually be covered by the waiver.
For example, if you decided to go on a white water rafting trip, you may have to sign a liability waiver for the company that is providing you the raft, equipment, and overall experience. Should an accident happen while in the midst of that white water rafting adventure, the waiver may prevent you or your family from suing the company in a personal injury case.
In New York City, though, a liability waiver is not necessarily a complete catch-all for any and all incidents that may happen. If you happen to slip and fall on the property of the white water rafting company after the experience has been completed, you may be eligible for filing a New York slip and fall accident claim and fighting for compensation for your injuries.
You do not have to simply accept that your accident is beyond the scope of a premises liability claim just because you signed a waiver. If you or a loved one is in this type of situation and a liability waiver is involved, contact an experienced New York slip and fall injury lawyer such as ours at Gregory Spektor & Associates to discuss the circumstances of your accident and determine whether or not you may be eligible to file a claim for your injuries.
What Are Slip and Fall Accident Liability Waivers in New York?
Essentially, a liability waiver for a slip and fall accident is a document that business and property owners have their clients sign prior to engaging in an activity, even when those activities may not be particularly risky. Liability waivers are intended to protect the assets of the property owner should an accident happen. The basic idea is that the liability waiver prevents clients from suing the business should they become injured.
Businesses that are based on high-risk activities or strenuous activities such as a gym often have their clients sign liability waivers. Serious injuries resulting from any accidents which occurred during the activity may fall under the waiver's specifications, but liability waivers are not the all-encompassing umbrella documents that a business or property owner may believe them to be. Likewise, some liability waivers may not be enforceable under New York law, especially when it comes to slip and fall accidents on the property.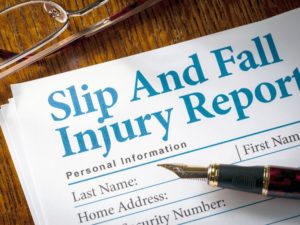 Are Slip and Fall Accident Liability Waivers Enforceable in New York?
In order to definitively answer this question, an experienced personal injury attorney from a New York law firm would have to closely examine the liability waiver and its fine print as well as investigate the exact circumstances which led to your accident and subsequent injuries or losses.
When it comes to slip and fall accidents, it is very difficult for a liability waiver to cover these types of incidents. While the waiver would generally cover everything having to do with the activity in which you were engaging (such as the white water rafting trip), it would be unlikely to also protect the property owner from a slip and fall accident injury occurring on the property caused by something like a wet floor or a poorly maintained parking area.
If you signed a liability waiver but were still injured at the business or on the property where you signed the waiver, contact a professional personal injury lawyer to discuss the specifics of slip and fall accidents and to determine whether or not your case is eligible for a lawsuit.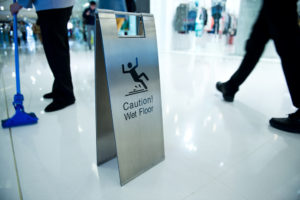 Can You Take Legal Action Against New York Property Owners even after Signing a Waiver?
When it comes to the specific wording of a liability waiver, it truly depends on the circumstances of your accident. At the time of signing the waiver, the property owner likely told you that this document precludes you from taking any legal action against the business should you become injured or even die during the course of the activity. However, many of the waivers that business owners have are entirely unenforceable, and a great premises liability lawyer can help slip and fall accident victims fight for compensation for their injuries.
General Obligation Law in New York
One of the first things that a slip and fall accident lawyer will look for in examining your case is whether or not it falls within New York's General Obligations Law. This law voids waivers for certain types of businesses.
These include:
Gyms
Public Pools
Public Amusement Parks
Public Recreational Activity Centers
If your injury occurred on the property of one of these facilities, any waiver you signed may not be valid or enforceable under New York law. It is essential, though, that you have an experienced personal injury law firm investigate the case in order to determine your eligibility for filing a suit for your injuries.
Entry Fee for Use
Another important point to note relates to the people who paid a fee to the operator of the business or owner of the property for use. If you paid a fee to use the facility or participate in activities at the property and were injured while there, the waiver may not be enforceable. There are arguments to be made (generally by the attorneys handling the case for the defendant) that the facility is for educational and or training purposes, not recreational, or the injured party did not pay the fee.
Language of the Waiver
Depending on the experience level of the business owner when it comes to the legal aspect of owning and operating a business in New York, that owner may have contracted an attorney to draw up very specific liability waivers with particular language that would cover the business in the event of something like a slip and fall accident.
Although a company's premises liability insurance would usually take care of any slip and fall accident injury and case, having a very well-crafted liability waiver could save the business owner time and money in the event a slip or trip accident occurs.
Other business owners, though, may not be as aware of the issues with standard, or "boilerplate," liability waivers and simply choose to use one of those. A company that does so has put itself at risk because those boilerplate waivers are not comprehensive or specific, which means that any good New York City trip and fall accident lawyer would likely be able to use its loopholes and lack of specificity to their client's advantage.
It is important to keep in mind that even if the liability waiver drawn up for a particular business is specific and would stand up in court, it would not cover a business' blatant negligence or carelessness which led to trip and fall incident or the subsequent brain injury, spinal cord injuries, broken bones, or other serious issues caused by the hazard. You may still be eligible for compensation, so consult with slip and fall lawyers with experience in these cases to find out more.
Minors and Liability Waivers
If a minor was the one who signed the liability waiver, New York law does not consider the waiver valid. Anyone under the age of 18 years old in New York cannot be bound to the statutes of the liability waiver, so any injuries sustained by the minor are not covered by the waiver if that minor signed the document.
For these reasons, it is critical for the outcome of your case that a professional legal team represents you and fights for your rights as the victim, and works to get you compensation for your injuries.

Contact Our Personal Injury Attorneys to Discuss Your Case Against a Property Owner in New York
If you are a New York resident who has sustained a slip and fall injury due to the hazardous condition of a business or property but also signed a liability waiver, contact our New York slip and fall lawyers for a free case evaluation and to find out if your claim is eligible for compensation. You have a right to feel safe and secure when at a business, and a liability waiver does not necessarily prevent you from filing a claim and suing for damages.
Why Hire Gregory Spektor & Associates for Your Liability Waiver Claim
At Gregory Spektor & Associates in New York, our lawyers have vast experience and a wealth of knowledge in the slip and fall practice area and have litigated many accident cases, including ones that involve liability waivers. We are dedicated to helping injured parties fight for compensation and to demonstrate to business owners that negligence at their location must be eliminated, especially when evidence shows it has already done harm to their patrons.
When you hire Gregory Spektor & Associates, you can rest assured that we will do everything possible to get the best outcome for your claim. We will research the situation, call on witnesses to the accident, gather and evaluate the evidence, and develop the best possible strategy to show why your damages and losses deserve compensation.
Even if there is a liability waiver involved, our team will examine every line of the waiver, determine any limitations of the waiver, and discuss the process of the lawsuit with you. Contact the expert attorneys at Gregory Spektor & Associates for more information on premises liability claims for slip and fall accidents and to entrust us with your legal representation in New York!
Gregory Spektor & Associates
1 Cross Island Plaza Suite 203C,
Queens, NY 11422
(718) 528-5272