The construction industry is one of the riskiest lines of work. Building projects are not only massive in scale but also risky undertakings where a construction accident can occur.
Knowing where to find legal help when a construction accident happens can be very helpful. Keeping in mind that nobody should get injured while working, it is only fair that when a construction accident happens those responsible are held accountable and the person is compensated consistent with his or her injuries.
Finding the right accident lawyer New York has to offer to file the compensation suit can be of massive help.
Fatal Construction Accidents a New York Construction Worker Could Suffer
Crane Accidents
A worker in the New York City real estate development industry could suffer a fatal accident. Data shows that construction cranes are among the most dangerous construction equipment in the industry.
The nation suffers over 40 fatal crane accidents every year. The most common fatal construction accident associated with cranes is falling objects.
When a crane extends out to help lift and fit construction material, there is a risk that something gets dropped. Considering the weight of most construction equipment, it is of little wonder the equipment or materials dropped by a crane cause fatal injuries.
Additionally, the sheer height of New York construction can impact the severity of injury from a falling object. The higher a crane is, the more momentum a falling object from that crane will hold.
RELATED: Returning to Work After a New York Construction Accident? Avoid These Common Mistakes
Electrocution
Aside from falling objects at work sites, construction workers can also get fatally injured by electrocution. The city cannot afford to shut down power whenever there is a new connection for development.
More often than not, the electricians and other workers have to work around live power when wiring buildings. Repairs and renovations also tend to happen when the power is live.
Sometimes, when working at night, the workers have to run preliminary wiring to get light and electricity for their tools. A construction site could feature water for cooking concrete.
The combination of factors around electrical wiring raises the risk of getting electrocuted to death.
Falls
Workers also suffer construction accidents from falling. Again, a construction site might not have full safety measures because of the pressure to deliver.
Scaffolding, for example, is not fully safe because it is temporary. Scaffolding accidents such as falling from weak scaffolding beams can cause death.
Falling is also common when workers are doing repairs and renovations to the roof. The average roof in New York is likely to be higher than the average roof in any other state due to the limited horizontal expansion of real estate available; the city tends to build vertically.
While is scaffolding law to protect the workers building vertically, construction accidents still occur. Sometimes demolition work is needed to take advantage of air rights and build vertically.
Getting Caught in Between Objects
Another construction accident is getting caught in between objects. A constructor can get caught in between heavy items or between vehicles and walls.
Getting fatally trapped in between objects can cause a fatal construction site accident. A construction accident can also be caused by getting struck by objects. Sometimes a heavy item will be swinging from a New York City construction site crane and hit a construction employee. Other times could be a loose fixture that is yet to get properly fitted.
Falls, electrocutions, getting caught between objects, and getting struck by an object can cause a construction accident, and account for over 60% of the fatal injuries to construction workers in the US.
Non-Fatal Construction Accidents New York Workers Can Suffer
The other type of possible injury to a construction worker is non-fatal injuries. About 1.8% of all construction workers suffer an injury that causes them to miss work.
Non-fatal injuries to construction workers account for over 8.5% of the total lost labor hours in the US. Non-fatal injuries are an expense that the property owners actively look to avoid.
While construction sites often have workers' compensation insurance covering workers' compensation in case of construction accident injuries, the workers who get injured can go through legal battles with the insurance company when looking for their workers' compensation benefits.
Causes of a Construction Accident
Accelerated Schedules
A construction worker in New York is likely to get into a construction accident at work because of accelerated schedules. A property owner wants a fast return on their investment. That then means the workers at the construction site will be required to meet short schedules.
In a high-stakes environment where the developer needs projects completed fast or where construction companies are under pressure to deliver, construction accidents are likely. The safety regulations might get glossed over, for example.
Workers might also cut corners as they try to meet the schedules. New York construction work contracts might also feature additional compensation based on speed performance metrics. In such an environment, it is easy for the worker to suffer an accident.
Short Work Contracts
Construction site accidents might also be due to the nature of work contracts that workers are given. To avoid extended liability, property owners might only issue short-term contracts to their workers.
The workers might prefer the short contracts because they allow them to move between sites with ease. The disadvantage with a short contract is that the worker does not have time to build enough familiarity and experience with equipment and the general site topography. In this context, a workplace injury at the construction site might happen.
Construction accidents at property development sites are also caused by a shortage of skill. New York's construction sector is booming. The demand for houses in the city both nationally and internationally has created a need for more space. The city's contractors are in desperate need to hire staff for their projects.
With that desperation, the hiring process is unlikely to be stringent and in contravention of labor laws. Unskilled workers without enough hours in practice areas might get hired to fill in the needed labor numbers for the project to carry on.
Unskilled workers who haven't spent time in practice areas will either hurt others or hurt themselves. An unskilled worker is also unlikely to know how to use safety equipment, thereby causing a construction accident.
Natural Causes
The other cause of bodily harm at construction sites is natural causes.
Sometimes the wind will be blowing too fast and cause items to be dislodged, thereby cause injury by hitting workers. At other times the natural elements could cause flooding that leads to electrocution. Unstable earth can also cause injury at construction sites.
In all these situations, the worker who gets injured is entitled to reprieve. Knowing whether to call a construction accident lawyer can be the difference between a loss of income, limb, or life and compensation for any injuries.
Remember, all New York City construction sites are required to comply with labor laws and have the relevant insurance.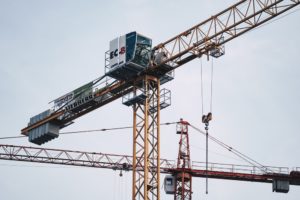 When to Call a Construction Injury Lawyer
Fractures
The first instance when consultation with a construction lawyer becomes necessary is when you suffer a fracture. Fractures can be due to broken bones of severed cartilages. A fracture can be open or close.
An open fracture is where the injury has broken the skin, while a close fracture is where the skin is not broken.
Closed fractures are characterized by pain and swelling in the injured area.
Fractures can also be displaced or non-displaced. A displaced fracture is where the bone has moved, sometimes to the extent of breaking the skins. A non-displaced fracture is where the bone has not moved.
Fractures can also be simple or compound. A simple fracture represents a breakage at one point, while a complex fracture means there was breakage at multiple points.
Muscle and Ligament Injuries
A construction worker can also suffer muscle sprain or ligament sprains. The sprain is different from a fracture in that the muscle or ligament does not tear; instead, it is stretched beyond its natural capacity.
A sprain is painful and can cause permanent damage unless it is attended to by a doctor. Sometimes ligament injuries require surgical interventions to heal. Healing from a muscle or ligament strain could take time and keep you out for work for extended periods.
A construction worker who depends on their ability to physically do work can expect to lose income for a significant time if they suffer muscle or ligament damage due to the construction accident injuries.
Further, going back to work before the injury heals completely could lead to another extended layoff; the injury could keep reoccurring.
Neck and Spinal Injuries
Neck and spinal injuries are also common in construction site accidents. The injuries can range from simple whiplash, which only causes discomfort, to significant spinal injuries that can result in paralysis.
Head injuries can be fatal. An injury to the head requires specialized medical care and can be expensive to treat.
Burns
Construction site accidents can also result in burns. Working with oil-based paints can also lead to burns when they catch fire. Electrocution can lead to burns as well. Burns can be painful, sometimes fatal.
Depending on the degree of the burns, a worker can either recover fast enough to resume work or permanently be unable to do any more work in construction.
You can also seek a free consultation on pursuing compensation for the death of a loved one.
The Death of a Loved One
When it comes to construction accidents, New York has a significant number of fatalities. Lawyers can help those left behind to file a case for compensation, especially where the clients' relative was the breadwinner.
Where the clients filing a suit on the death of a relative due to a construction accident, the filing is under wrongful death. In New York, wrongful death cases must be filed within two months of the death.
Where a government agency is partly responsible for the death, the lawyers must file the case within 90 days.
Recourse for Injury at a Construction Site
A New York city worker who gets injured in a construction accident can file a personal injury lawsuit against the company or individuals responsible for the injuries.
The main goal of a personal injury lawsuit is to get worker compensation benefits for the clients' injuries. A worker who gets injured while at the construction site has a valid case for compensation on their medical costs associated with the injury.
Such a worker can pursue compensation for lost wages due to the injury. An injured construction professional can also sue for workers' compensation due to pain and suffering. Pain and suffering are non-economic damage.
Workers' compensation for pain and suffering is not capped in New York, meaning the client can file a workers' compensation claim for any amount they deem suitable consistent with the case evaluation by the lawyers.
A New York worker who suffers a personal injury at work can also pursue workers' compensation for loss of future income in accordance with the labor law. The suit for future loss of income is especially necessary when the injuries from the construction site accident will take a long time to heal or completely prevents the worker from engaging in their trade in the future.
The Basis for a Construction Site Injury Suit
Negligence
Claims for a personal construction accident injury can be based on negligence, according to New York labor law. Negligence has legal thresholds and must be consistent with labor law. To get a ruling on the workers' compensation benefits, a plaintiff must prove that the defendant owed him or her a duty of care.
Further, the plaintiff must prove that the defendant violated that duty of care. Lastly, the construction accident attorneys must prove that the defendant's negligence of the duty of care must contribute significantly to the personal injury or death that the plaintiff suffers.
Premises Liability
The next basis for a legal case over a construction accident for construction professionals is premises liability. The person who owns a property where the work site injury happened can be sued under the premises liability provision.
However, the construction accident lawyers handling the case must prove that the defendant owned and controlled the property at the time of the construction site accident. The plaintiff must prove that the defendant violated labor law by being negligent in maintaining or using the premise.
The construction accident lawyers must also prove that their plaintiff suffered personal injury and that the harm was a consequence of the defendant's negligence.
Other grounds for a legal case for workers' compensation include vicarious liability and product or equipment defects.
A competent construction accident lawyer should know which basis applies best to your construction accident case. That stated, finding the right accident attorneys is not easy.
The Value of a New York Construction Accident Lawyer
A qualified and experienced construction accident lawyer can help a defendant sue for their claims. The best firms will offer a free consultation from their lawyers to help determine if you have a valid case.
The attorneys will review the preliminary facts to establish if the case holds merit especially with regard to New York labor laws. An experienced law firm like Gregory Spektor & Associates has not only the legal experience but also trial lawyers with familiarity on the city's judgment precedents and New York labor law on construction accident lawsuits.
Such attorneys also understand specialized areas like scaffolding law and workers' compensation insurance. In a case decided by a jury sits, super lawyers who have handled construction accident cases before will know how to guide the jury towards the truth and harm caused to the injured construction workers.
While many New York City attorneys can file a construction accident case, there are few construction accident attorneys with the capacity to achieve success in construction accident cases.
Getting the right New York construction injuries lawyer might be the most significant factor influencing whether the plaintiff wins the case and gets compensation or not.
Additionally, competent and experienced construction accident lawyers from a firm like Gregory Spektor & Associates will know what compensation amount to sue for so the client is compensated well enough for their injuries.
Property developers and owners in New York city construction are economically empowered individuals. Such individuals are likely to have some of the best defense lawyers in the city on their payroll.
You are unlikely to win any case against such people unless you also have the best accident lawyer New York has to offer; you need the best accident attorneys arguing your case.
That is why Gregory Spektor & Associates welcomes you to get an initial free consultation for any injuries sustained at a construction site in New York.
RELATED: Work Related New York Construction Accident Injury, What Do You Do Now?