One of the most stressful, physically demanding, and often dangerous occupations is construction work. It certainly takes a particular type of person to be able to succeed in the construction industry.
Anyone who is or has a loved one who is a construction worker in New York City will know that there are possible dangers present everywhere in construction sites, even when the construction companies try their best to keep it a safe working environment.
An unfortunate reality is that construction accidents happen all the time, and the construction workers who are injured as a result of those occurrences deserve to fight for compensation for their injuries.
At Gregory Spektor & Associates in New York City, our experienced construction accident attorneys are dedicated to helping the victims of serious construction site incidents get compensation for their injuries and losses. We know how devastating and catastrophic construction accidents can be for the victim as well as his or her family, especially when the injuries and the pain associated with them prevent the construction worker from returning to his or her job.
When you have the representation of an experienced personal injury attorney such as ours at Gregory Spektor & Associates on your side, you can rest assured that your case will be handled with expertise and skill. Our team understands that you need to focus on the healing process rather than anything associated with the injury and the ensuing lawsuit. When you leave everything to our expert construction accident attorneys in New York City, your primary attention can be on getting back on your feet and healed in both physical and emotional capacities.
If you hire Gregory Spektor & Associates to handle your construction accident case, you will have peace of mind knowing that your claim is in exceptional hands. During the legal process, the circumstances of your construction accident will be thoroughly investigated, statements will be taken from witnesses, evidence will be gathered and examined, and a well-developed strategy will be created to work toward the best possible outcome for your New York construction accident case.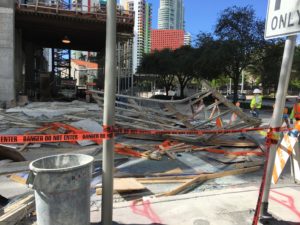 Types of New York City Construction Accidents
Construction sites have a wide variety of possible accident situations or other reasons why injuries and damages may occur. It is nearly impossible to fully prepare for all of the potential accidents and incidents waiting to happen with the equipment, building materials, and construction process.
Construction workers are often exposed to toxic chemicals that can be extremely harmful to their health, and demolition work often exposes construction workers to asbestos in old buildings. Breathing in these chemicals and asbestos can result in very serious, long-term health effects that may shorten the life of the construction workers on site.
When it comes to an active construction site, there are objects of varying size, weight, and mobility being moved throughout the location or being worked around at the site. Sometimes these objects fall or are accidentally pushed, and when they fall from a height, they can be very dangerous. These are known as "struck by" accidents. A worker may sustain injuries if they happen to find themselves stuck or caught in between two large objects.
Also, construction workers themselves falling presents a risk of injury since many unfinished buildings have no guards around the ledges or shafts.
Other common construction site accidents that our legal team at Gregory Spektor & Associates have handled include:
Electrocution
Trench Collapses
Forklift Accidents
Scaffolding Accidents/Collapses
Arc Flash and Arc Blast burns
Vehicle Collisions in Roadside Construction Zones
Repetitive Motion Injuries
Because there are so many possibilities for a construction accident, it is not surprising that they happen quite often in the construction industry. Those construction workers who sustain injuries or losses deserve compensation for these damages, especially since the injuries can potentially impact his or her family's well-being too.
In order for a family to avoid potential negative impacts as a result of the accident, the victim should hire an experienced law firm to ensure everything is taken care of with the suit.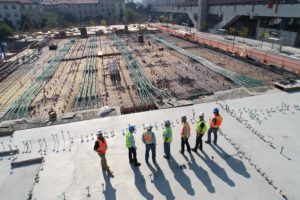 What New York City Construction Workers Need to Prove Their Personal Injury Cases
The necessary information on how to prove a construction accident depends on the type of construction site on which you work and were injured as well as who will be held liable in the personal injury lawsuit and why. In New York, there are a few different categories of construction accident types, and they each have certain kinds of evidence that should be acquired in order to make the case as strong as possible.
In the first category, the defendant (usually the owner, lessee, contractor, subcontractor, or other people in charge of the construction site is held liable for having generally unsafe working conditions that led to the injuries for the plaintiff. This is Labor Law 200. For a general negligence suit, two things must be proven by your construction accident lawyers in order to have a compelling case.
These two proofs are:
defendant's ability to control the construction site
it should be noted that if you collect workers' compensation benefits for your injuries related to the construction accident, you are not permitted to sue your employer under New York law, so you may not have an actual person to file a lawsuit against
defendant was aware of the unsafe working conditions or should have been aware of them
in order for your case to have substance, you may be able to demonstrate that the unsafe working conditions should have been obvious to the owner or manager of the construction site and the hazards should have been remedied but the owner's failure to correct the dangers directly resulted in your accident injuries
If the general unsafe working conditions of the construction site does not apply to your situation, the second category of construction accidents relates to Industrial Code Violations.
In this second category, Labor Law 241 (Industrial Code Violations) has been broken, and the proof that must be demonstrated by plaintiffs or their construction accident lawyers is that someone within the New York construction organization was aware of (or should have been) the violation's existence. It is not a matter of proving that only 1 person knew of the violation because it was so glaring that anyone should have been witness to it.
You are also obligated to show that the injuries you sustained as a result of the violation were caused by a work-related activity covered by the New York statute. These activities can include repair, construction, maintenance, building, moving/painting of a building, excavation, or demolition.
Finally, the third category is the breaking of Labor Law 240(1) or the Violation of Worker Safety Statute. Within the confines of this last category, the defendant is held liable for injuries, even if the fault for the accident is even partially on the plaintiff. This New York City labor law is solely focused on the failure (in any capacity) of safety devices designed to ensure the safety and security of construction workers whose primary jobs are in elevation-related hazards like cleaning, demolition, repair, painting, and erection. These devices include items such as scaffolding, pulleys, and ladders.
Obviously, there are plenty of elements and factors that must be considered when working on a construction accident personal injury case. Just as on construction sites, there are many moving parts incorporated into a New York construction incident claim, especially depending on the category of case being made.
To ensure that your pain, suffering, and other effects of your construction accident injuries are compensated properly, it is essential to entrust your claim to experienced construction accident lawyers such as ours at Gregory Spektor & Associates in New York.

Why a New York City Construction Worker Needs Expert Legal Representation
If you are a construction worker who has sustained serious construction injuries such as head trauma or back injuries as a direct result of a construction accident, you need the legal advice and representation of expert personal injury attorneys.
The first essential activity that a construction accident attorney can complete for you is to listen to the particulars of your situation as an injured construction worker during a free, confidential consultation and determine whether or not you have a viable case.
Free Consultation
When you have injuries or losses caused by an occurrence at a construction site, you need to know for certain whether or not you can file a claim against the property owner for the accident. A good attorney, during the case evaluation, will also help a client figure out if they may have a better chance at filing a workers' compensation claim than a construction accident case.
Once the consultation is complete and you have entrusted your construction work case to a construction accident injury attorney, the next step is for that lawyer to investigate your claim as well as the construction site and get all of the information necessary to prove your case. Workers in the construction industry deserve to feel as safe as possible on the job sites, but when construction sites have hazards, the resulting injuries deserve compensation.
Investigation
At Gregory Spektor & Associates in New York, we use all of the information possible to develop the best strategy for your claim. As our client, you can rest assured that we will use every type of evidence we can to fight for your rights as a construction accident victim. Medical reports, police reports, job site documentation, reports from the Occupational Safety and Health Administration (OSHA) for that job site, witness statements, and anything else we are able to acquire will be used to work toward the best possible outcome.
Fighting for Compensation
One of the most important aspects of your legal representation as a client is determining which types of damage compensation you may be eligible for and then going after them.
When it comes to construction accidents, injured workers may be eligible to include the following damages in your case:
Medical expenses – Workers who sustain construction accident injuries will likely need serious medical attention. Whether it is diagnostic testing, surgery, or any other medical treatments, expenses add up even with insurance. Once you are out of the hospital, you may also need coverage for:
Prescription medications
Medical devices
Rehabilitation and Physical Therapy
Lost income – When you are injured and cannot work for the time that you are in recovery, you should be compensated for this from property owners. Without this type of compensation, you and your family may suffer trying to pay the bills and keep food on the table, especially when you are the main breadwinner.
Loss of earning potential – If your injury also prevents you from returning to work indefinitely, this can be considered a loss of earning potential.
Property damage – When the negligence of the property owner resulted in damage to your personal property, you may be able to claim these damages in your personal injury lawsuit.
Pain and suffering – Your physical pain and emotional suffering may all be considered in the range of damages you may be eligible for. The jury in your case will review the accident circumstances, listen to the witnesses, and determine what a fair amount would be for pain and suffering.
Loss of consortium – When the physical construction accident injury you suffered prevents you from providing your spouse or partner with the expected love, support, and intimacy of a relationship, you may be eligible for compensation for this type of damage as well.
Punitive damages – As a method of further punishment and to deter similar types of behavior in the future, punitive damages may be awarded for your injury if the negligent party was malicious, willful, or intentional in his or her carelessness.
Experienced attorneys such as ours at Gregory Spektor & Associates in New York will be able to determine the level of damage compensation you may be eligible for concerning your construction site injuries and which kinds would be applicable for your accident.

Contact Our Experienced New York Construction Accident Attorneys
If you are a construction worker who sustained serious worksite injuries as a result of faulty equipment or the property owner's negligence, you may be eligible for compensation under workers' compensation laws or a personal injury case. Construction projects should have safety rules and regulations that each person on the crew must follow, but when these regulations are dismissed, the resulting injuries deserve compensation.
At Gregory Spektor & Associates in New York, our workers' compensation and personal injury attorneys have extensive experience and vast knowledge in the law. Our legal team is determined to fight for justice and compensation for those injured in a construction project or for the families of construction fatalities.
Each New York construction accident lawyer at Gregory Spektor & Associates understands the difficulties and challenges associated with injuries resulting from construction accidents. Employers have a responsibility to keep their workers as safe as possible, and when they do not meet these obligations or ignore obvious risks at the worksite, they must be held accountable for the injuries resulting from the accidents.
Whether it is contractors, employees, or other individuals associated with a construction project, our New York personal injury law firm, Gregory Spektor & Associates, will work diligently on their construction accident cases to ensure the best possible outcome. Contact us today to discuss your case at a free case evaluation and determine if you have a potential personal injury claim to be filed against the owner of the construction site.
Gregory Spektor & Associates
1 Cross Island Plaza Suite 203C,
Queens, NY 11422
1-718-528-5272