In the modern world, it has become a necessity to travel the roads using some type of vehicle. New York City has thousands of drivers throughout the city trying to get from one point to another safely and quickly. It is an unfortunate reality that some of these many vehicles will end up in a car crash. Drivers and passengers may sustain serious, life-threatening injuries; others may even be killed in a car crash.
Car Accidents in New York City
If you or a loved one has been involved in a car accident in New York City, you will need to immediately notify the police. You will have a New York state police accident report filed following the crash. This police report is one of the most important pieces of evidence used by car accident attorneys during the course of your lawsuit, so it is important that you ensure one is written out and filed.
Because car accidents are so complicated in New York, the police report will help to keep the events straight and identify the other driver(s) involved as well as who the officer feels is at fault for the accident. When there are serious injuries as well as property damage incurred during the incident, the accident report will be crucial in assisting your attorney with the case.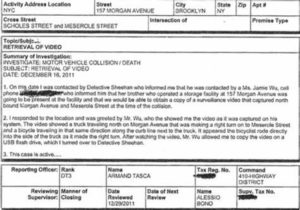 Why Your New York State Police Car Accident Report Matters
During the course of a personal injury auto accident case, the car crash report will be crucial in two specific ways: legal compensation and insurance claims.
When it comes to the insurance company of the negligent or careless driver who caused the accident, the adjusters from the company will look for any error or inaccuracy in the accident report as a reason for denying or fighting against the claim.
One small detail can be cause for a denial, and it is an extremely difficult challenge to change the incident report once it has been filed. Although not impossible, it takes legal experts to file adjustments to the report.
A second reason why the incident report is so vital is during the litigation of your personal injury claim. In order to fight for compensation for injuries and property damage to the vehicle sustained during the accident, the report will be utilized to its fullest to demonstrate that the authorities felt that the other driver was at fault and should be held liable for your injuries. Your attorney will show that the crashed vehicle and injuries should be compensated by the responsible person using information from the paperwork filed by police.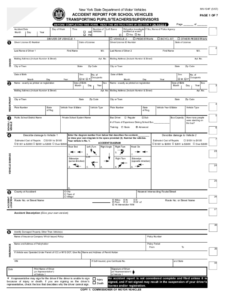 Things to Know When Reading Your Car Accident Report
The accident report itself is several pages long and will be written out at the scene by the police officer(s) responding to the accident. The report will be one of the main sources of information during your personal injury case as well as the claim with the insurance company.
At Gregory Spektor & Associates, we want to make sure that you understand your car accident reports and are able to verify the most important information recorded in the report. Although you will likely be shaken up by the accident, it is important that you ensure the accident report is as accurate as possible.
RELATED: The Most Dangerous Intersections in New York City for Car Accidents and When to Contact an Attorney
Page One of The New York State Car Accident Report
On page one of the report, you will find personal contact information (name, address, driver's license number, date and time of the accident), the number of people injured, circumstances of the accident (alcohol involvement, aggressive driving, texting, etc.), and information about the injuries (location, type, and severity). While it seems basic, it is critical that you exchange information accurately with other drivers and the police.
Pages Two to Three of the Car Accident Report
The next two pages of these reports provide special numerical codes for the boxes which are checked on page 1. Matching the codes can be a complicated process, but our attorneys at Gregory Spektor & Associates can help you understand the various codes that have been checked and ensure that they match up with what actually happened during the crash. We will also use these codes to help build your legal case because we want to make sure we are able to get you the best possible outcome for your claim.
Page Four of the Car Accident Report
Page 4 is a vital page when it comes to your personal injury claim because it is the definition of the injury codes inputted on the first page of accident reports.
Police officers and traffic officials are obviously not medical professionals, and it is common that they may not think of a distinction between a minor or severe injury sustained by a driver or passenger.
For example, "minor bleeding" versus "severe bleeding" is a very subjective distinction, but it can also be a make or break distinction when it comes to your car accident claim. Your New York car accident lawyer can help you adjust the report if you find that you do not agree with the officer's assessment made at the time of the traffic accident.
Page Six of the Car Accident Report
The last page which is relevant for accidents that only involve cars – no large vehicles such as trucks or buses – is page 6. This lists the hospital codes for all of the medical facilities in the New York area. Be sure that the code listed in boxes 17 and 18 on page 1 matches the hospital you were taken to, especially if you had severe injuries and damages.
Last Page of the Car Accident Report
Finally, the very last page of the police's accident paperwork is for collisions involving buses and commercial trucks. There are specific codes that will be used for various types of large vehicles, and they can be found on the final page.
If your accident did involve an 18-wheeler tractor trailer, bus, or delivery truck, our New York car accident attorney at Gregory Spektor & Associates can help you understand the codes, make sure they are correct, and use the paperwork to help strengthen your case.

Contact Our New York City Car Crash Attorneys
If you or a loved one has been involved in a serious car accident in New York and incurred injuries (or the loved one was killed) and damages, it is important to contact an experienced attorney to discuss the details of your case.
All drivers involved should first exchange information, call the police, and then contact a lawyer to represent their best interests. It is also critical that the police at the scene write out the details on official documentation that can then be used during the course of your car accident case.
At Gregory Spektor & Associates, we have vast experience and comprehensive knowledge of the local legal community to help you fight for the compensation you deserve for injuries and damages sustained as a result of another driver's negligence in New York City.
We advocate for our clients because we understand how challenging it can be to have been injured by another driver and now need to deal with all of the repercussions of that accident. Our goal is to allow an injured person to focus on their healing and recovery process rather than the details of the accident injury claim, medical bills, or repairs to a vehicle. The legal team at Gregory Spektor & Associates will focus on your case so you can spend your time recovering.
When you have been involved in a car accident in New York and sustained injuries, you need the legal advice and representation of an experienced attorney to fight for your rights as a victim.
Contact Gregory Spektor & Associates today to schedule your free consultation with our expert vehicle collision attorneys to discuss your case, and to answer any and all of your questions.
Also Check Out: What is The Role of a New York Personal Injury Lawyer?