On a daily basis, thousands of people travel by motor vehicle on the roads and highways of New York. For the most part, any vehicle on the road will generally be looking out for the safety and security of the occupants of the vehicle. However, it is an unfortunate reality that sometimes serious incidents occur that cause severe injuries or even fatalities of the vehicle occupants involved in the traffic accidents.
Those drivers, passengers, and even pedestrians who have been injured as a result of another driver's negligence deserve to fight for justice and compensation for their injuries, damages, and losses. When crashes cause the deaths of anyone in the vehicles, the deceased individuals' loved ones may also be able to file a wrongful death lawsuit to help pay for funeral expenses and other effects of the fatality.
At Gregory Spektor & Associates, we are a Queens-based law firm and each auto accident attorney understands the process of filing a vehicle accident claim as well as any time limitations that are in place. If a claim is not made prior to the limitation, the injured drivers and passengers may no longer have legal recourse.
New York Statute of Limitations for Vehicle Collisions
In the state of New York, those who have been injured in traffic accidents deserve to fight for legal compensation and justice for their losses. However, it is important that these cases are filed within 3 years of the accident's occurrence.
If a plaintiff does not file their claim within that window, the courts will likely block the claim and leave you with no recourse for property damage, injuries, and other losses sustained as a result of the lack of safety and adherence to traffic laws on the road by the negligent party.
Time Frame for Filing a Car Crash Insurance Claim in New York
Filing a car crash claim with your insurance company, though, must be done within 30 days of the accident in the state of New York. Because New York is a no-fault state, your car insurance policy will actually cover the cost of medical bills and income lost from your inability to work. This is your Personal Injury Protection (PIP) policy. In order to take advantage of these benefits, it is advisable to file your claim sooner rather than later.
If your injuries exceed your PIP insurance coverage, you may also be able to sue the negligent driver in order to cover the rest. This may be the case if you sustain a serious injury, as defined by New York law. Our experienced traffic collision attorneys will be able to help you figure out if your collision qualifies for this coverage.
Why Car Crashes Need to Be Reported Immediately
As with almost every other type of personal injury case, road collisions take time to investigate fully. Evidence will need to be collected and analyzed, witness statements gathered and reviewed, police reports from the NYPD filed and given to the legal team, and medical reports discussed with medical professionals. The sooner your collision was reported, the quicker the case can get started.
Whether it was a multi-car pile up or a crash caused by speeding or any other circumstance, the investigation process will be lengthy. An experienced attorney such as ours Gregory Spektor & Associates in Queens, New York, will ensure that all of the evidence is logged correctly and is not lost.
Property damage needs to be assessed, and your financial hardship as a result of the crash will also need to be figured out in order to come up with a settlement amount. With so many moving parts and various people involved, it is essential that a legal team is involved in claims involving traffic collisions or other situations where a driver broke a traffic law in Queens, NY.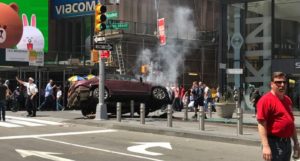 Steps to Take After Being Involved in a Vehicle Crash
When individuals are involved in a vehicle accident, they may end up feeling unsure of what to do or what the proper steps to take may be to ensure that any insurance claim or lawsuit will have the potential for the best possible outcome.
Here are the best steps to take after you have been involved in a vehicle collision in Queens, NY:
Seek medical attention immediately for anyone who sustained injuries or may have been affected by the accident. Making sure that victims receive proper medical attention and care is the most important step.
Document the accident by photographing and/or video recording each vehicle, all injuries sustained, and the surrounding areas. These photos and videos may be used to help the investigative process and as evidence in the court proceedings by your vehicle collisions attorney.
Swap contact and insurance information with the drivers of every vehicle involved in the crash.
Talk to any witnesses who actually saw the car crash take place so that multiple viewpoints can be utilized during your claim. Your attorney will also want to talk to witnesses as will the NYPD to ensure the details of the crash are clear.
Make a statement to the police and fill out a report with the police at the scene so that your memories of the event are as clear as possible.
These steps will help to ensure the best possible legal case and outcome for your accident in Queens.

Contact Our Experienced New York City Personal Injury Attorneys
At Gregory Spektor & Associates in New York, we have vast experience and comprehensive knowledge in a variety of personal injury practice areas. Our law firm understands the legal nuances and challenges of dealing with motor vehicle collisions and the injuries they cause. As the victim of a motor vehicle collision caused by someone else's negligence, you should not have to deal with the consequences by yourself.
The traffic law attorneys at Gregory Spektor & Associates can provide you with the legal advice and representation you need for a thorough investigation of the incident as well as a development of a solid legal case against the defendant who caused the car wreck. Our goal is to allow you to work on the healing process while we fight for your rights as the victim of a traffic collision and the compensation you deserve for your injuries.
Contact us today to discuss your vehicle accident case in a free initial consultation with an experienced automobile accident attorney at Gregory Spektor & Associates. We are here to give you auto accident legal advice and work for the best possible outcome for your crash.